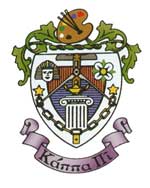 ZAII Chapter
Kappa Pi is an International Art Fraternity based on academic achievement and artistic excellence. Founded in 1911 at the University of Kentucky, Kappa Pi recognizes students who demonstrate outstanding academic achievement and also possess excellent studio art skills. As an organization, Kappa Pi supports the arts within the university and the community and seeks to promote a deeper appreciation of the arts among the public.

Zeta Alpha Pi chapter was established at Huntington University to recognize and honor those who have excelled in the visual arts academically and creatively. It offers qualified art majors opportunities to become involved in activities, which further the goals of achievement in the visual arts and the purposes of the Department of Visual Arts, as well as, assist faculty members in developing an atmosphere conducive to providing the highest quality visual arts education.

Involvement in Kappa Pi is strongly encouraged of all qualified art majors and minors. As an honorary fraternity, members must be art majors or minors who have completed 12 credit hours in the major/minor with a cumulative GPA of 3.0 in the major/minor, good attendance and, quality artwork. In exchange for this high academic achievement, our fraternity offers competitive scholarships for its members. We offer a chance for art students to spend more time together reinforcing their common interests. Zeta Alpha Pi sponsored activities are especially helpful for students interested in pursuing a career in art.