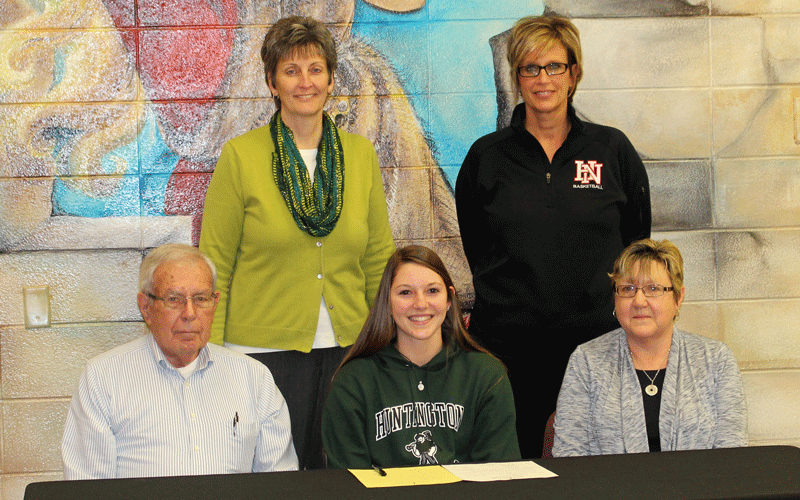 HUNTINGTON, Ind. - Huntington North High School standout Sarah Fryman will be taking her talent across town this fall to play for Lori Culler and the Forester women's basketball team as announced earlier this week.

Fryman led the Lady Vikings in scoring (16.0 ppg) and rebounding (5.5 rpg) this year and for her efforts was named First Team All-Conference. The 5-9 forward shot 46.4 percent from the field (130-for-28) and finished 94-for-114 from the line for 82.5 percent to help guide HNHS to its first winning season since 2005.

Behind second year coach and HU alum Heidi Lawson, the Lady Vikes finished the year with an overall record of 16-7.

We're very excited to have Sarah join our program," said Culler. "She has a very versatile game that will translate well at the next level. She has the ability to play with her back to the basket, take opponents off the dribble and can knock down the three.

"She just kept getting better and better as a senior this year and I'm positive that trend will continue as a Forester. I expect her to have an outstanding career at HU."

Fryman joins Huntington North teammate Ellie Lawson as part of HU's 2016-17 recruiting class.

The Huntington University Foresters compete in 17 intercollegiate sports for men and women. In the past decade, Huntington has produced 39 NAIA All-America honors and 234 All-America Scholar Athlete honors. Huntington University is a comprehensive Christian college of the liberal arts offering graduate and undergraduate programs in more than 70 academic concentrations. U.S. News & World Report ranks Huntington among the best colleges in the Midwest.