Programs for Designated Gifts
Huntington University will accept designated gifts to programs, departments, athletics, or other areas of interest from alumni and friends. Following are some of the programs that are new to the University where start-up funding will enable them to get off to a strong start.
Occupational Therapy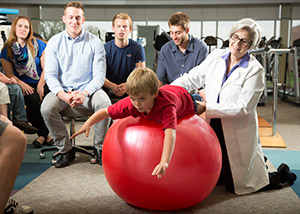 In the fall of 2014, HU launched its first doctoral degree program in occupational therapy. Start-up expenses of a doctoral program create many opportunities for support ranging from an $80 functional joint model to underwriting any one of the five laboratories. Naming opportunities are available for gifts of $10,000-$500,000. Other allied health programs we are exploring include physician's assistant (PA), masters of science in nursing-nurse anesthetist (MSN-NA), doctoral nurse practitioner (DNP), and athletic trainer.
Criminal Justice
A degree in criminal justice taught from a distinctly Christian perspective was launched in fall 2014.

Loan Repayment Program
Because many HU graduates put mission before money when considering job options, sometimes paying back student loans can be a stretch. The Loan Repayment Program (LRAP), provided to all qualifying students, can bridge the gap. Through the program, HU graduates are reimbursed for their loans, either in part or in whole, based on their incomes. To help maintain this program for our graduates, please consider a generous contribution to Huntington University and designate it to LRAP. For further information about the benefits of this program, click here.
"The Loan Repayment Program has lifted a huge burden from me! I am confident that God has not only called me to ministry but also to Huntington because He has provided a way to help financially cover my education. Without this program HU would not be possible for me. It is a true blessing!"
—Children's ministry major, Class of 2012 [More testimonials]