Art Education
The bachelor of science degree in art education prepares students to become successful educators of exceptional skill and unique, creative thought. It is well suited for those excited to share their passion for art with other learners.
The art education program is designed for students who wish to obtain a P-12 visual arts teaching license. Graduates of Huntington's art education program are heading up successful art departments and classrooms across the state of Indiana and throughout the country. Most graduates are extended full-time offers within a month of graduation. Though many prefer to teach in school settings, other art education graduates are employed in related fields, such as community art center education and museum education. Reciprocity agreements between Indiana and other states help graduates find employment nationwide.
The art education program at Huntington University provides a solid foundation in studio art, curriculum planning, visual arts standards, and teaching methods. As an art education major, students will study art history and complete various art studio coursework, in addition to taking courses in visual arts teaching methods and art education foundations to prepare to teach art in today's art programs, and assist in making the transition from art education theory to professional practice. Hands-on, practical experiences are explored throughout numerous semesters prior to student teaching. Students gain experience through practicums, practice hours, and numerous observations of different grade levels, learning environments, and teaching styles.
Huntington students have a very high rate of passage on state education competency tests. Our NCATE-accredited program is specifically designed for students who wish to obtain an Indiana teaching license.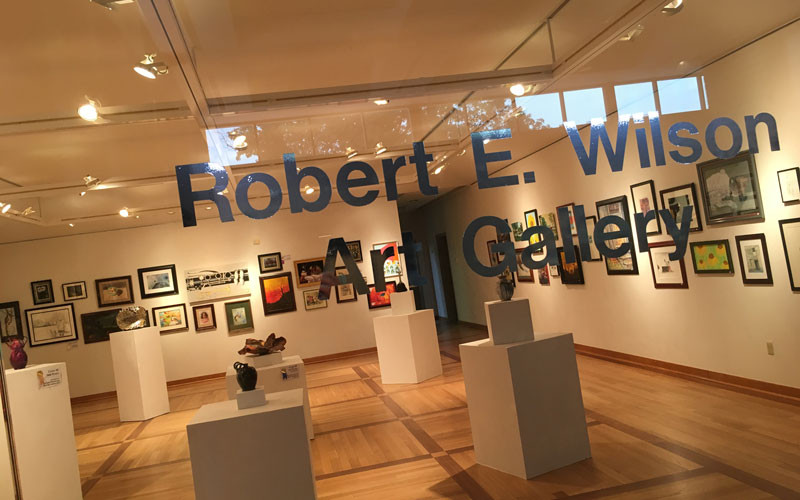 Robert E. Wilson Gallery
Stop by the Merillat Centre for the Arts for a visit to the Robert E. Wilson Gallery. The Gallery presents a series of rotating exhibits throughout the year featuring work from student, faculty, and professional artists. Students have the opportunity to display their art for show annually. The Gallery's permanent collection includes paintings by a variety of contemporary American and European artists. It is open weekdays from 9:00 a.m. to 4:00 p.m., before and after all Merillat Centre performances, and by appointment.