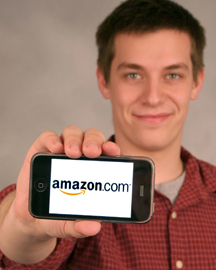 Strong Background, Effective Professional
As a student in the business management program at Huntington University, you will take classes in a variety of academic disciplines, including management, accounting, economics, business law, and mathematics. You will receive a strong academic preparation using the same technology you'll encounter in the workplace.
At Huntington University, you will gain the analytical and problem-solving skills necessary for success in business world. You will graduate with a broad, well-balanced education that expands your career opportunities and prepares you for graduate study.
Real-World Experiences
You will be mentored by successful management professionals through a variety of internship opportunities. Through our Executive-in-Residence Program and Visiting Executive Seminars, you will wrestle with contemporary business issues alongside fellow students, faculty, and regional business leaders.
Your classes will not be taught by "graduate assistants," which is common at most larger universities. Instead, you will be individually instructed by exceptionally credentialed faculty who will challenge you to think critically, work diligently, and integrate faith with your studies.
You will be challenged by classroom discussions with students, professors, and visiting executives from a wide range of backgrounds and experiences. You will learn alongside other students majoring in accounting, economics and finance, business education, marketing, and small business management (entrepreneurship). The department also offers minors in marketing, accounting, economics and finance, entrepreneurial small business, and management.