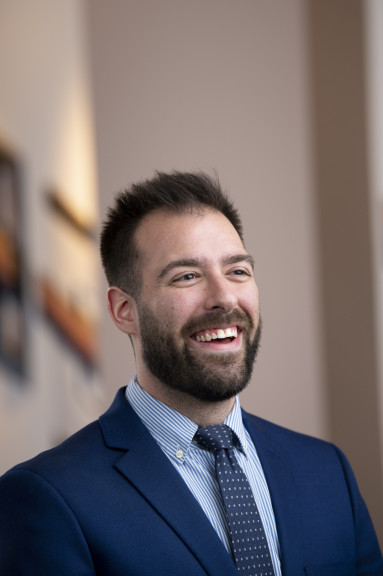 Jamesdean Visley
Assistant Professor
(260) 702-9633
jvisley@huntington.edu
Joined the Huntington University faculty in 2020.
Dr. Jamesdean (JD) Visley was among the first graduating class of Huntington University's Doctoral Program in Occupational Therapy. He helped create the OTD program's student-led Bible study, which is still active today. In 2016, he was honored with the Servant Leadership of the Year Award, as voted on by faculty and fellow students. He received a Bachelor of Science degree in psychology from the University of Pittsburgh.
As one of the two capstone coordinators for the OTD program, Dr. Visley helps facilitate student success through development and implementation of a doctoral capstone project. Dr. Visley is passionate about both assistive technology and the pediatric setting and has specific interests relating to ADHD, Autism Spectrum Disorder (ASD), Sensory Integration, and disability ministries. He maintains clinical experience through work at a local pediatric outpatient clinic and has contributed to research and scholarly articles relating to the carryover of OT interventions outside of the clinic setting, establishing new special needs ministries, understanding the effects of Sensory Integration on the participation of children with ASD, and universal design and community inclusion. He consults on an as-needed basis with churches that are hoping to develop special needs/disability ministries, which aligns with his own doctoral capstone work.
He is certified as an Assistive Technology Professional (ATP) through the Rehabilitation and Engineering Society of North America (RESNA) and holds an Executive Certificate in Home Modifications (ECHM) through the University of Southern California's School of Gerontology and a Beyond Suffering Certificate (BYS) through the Joni and Friends International Disability Center. Dr. Visely is actively exploring research relating to virtual reality and its implications for OT, as well as other immerging assistive technologies.
Prior to becoming an OT, Dr. Visley worked with children with special needs for several years at a private school near his hometown in Pittsburgh, Pennsylvania. Before coming to Huntington University, he worked with EBS healthcare for several years and was contracted out of New York City. There, he gained experience in a multitude of settings, treating a caseload of over 75 children each year throughout an elementary school, outpatient pediatric clinic, and various homes throughout NYC. He also served as the primary evaluating therapist at a pediatric clinic in Brooklyn, New York.
In his spare time, he enjoys traveling, exercising, cooking, exploring new restaurants, and spending time with his family. Together, Dr. Visley and his wife, Sarah, are actively involved in church, where they serve as children's leaders and youth leaders and they are both passionate about local and international missions.