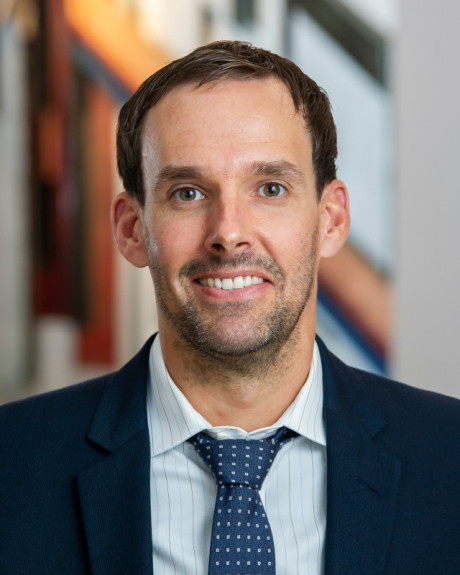 Nathan Short
Associate Professor of Occupational Therapy Doctorate Program, Assistant Director
260-702-9623
nathan.short@huntington.edu

Joined the Huntington University faculty in 2014.
Dr. Nate Short, PhD, OTD, OTR/L, CHT, has been with the Huntington University Doctoral Program in Occupational Therapy since its inception and currently serves in the roles of associate professor and assistant director. Prior to moving to Fort Wayne, he worked with the Indian Health Service in New Mexico. Dr. Short provided the rehabilitation needs for a hand surgery clinic, established a hospital-wide ergonomics program, and served patients primarily in an outpatient setting. He also established an OT contracting business providing services across the spectrum of practice, including home-based pediatrics and rehabilitation in addition to school settings.
Dr. Short's primary area of expertise is hand and upper extremity rehabilitation, and as a Certified Hand Therapist (CHT) he remains clinically active in a local outpatient therapy clinic. He obtained his undergraduate degree in psychology from Lee University and attended Belmont University for his doctorate in occupational therapy. He earned his PhD from Kingston University in London, England, in health and social care in 2020.
His research interests include upper extremity rehabilitation, cross-cultural practice, and the societal and clinical impact of technology. He has published and presented numerous research studies related to these topics. Dr. Short also provides peer review for scholarly journals within the field as well as expert witness testimony regarding the functional impact of injury. He is the author of Functional Anatomy for Occupational Therapy and its companion text, OT Guide to Goniometry and MMT, both published through Books of Discovery.
Dr. Short also leads the OTD program partnership with Joni & Friends International Disability Center. The OTD students participate in a regional wheelchair collection project as well as an international service-learning (ISL) experience with Joni and Friends' Cause4Life focused on providing seating and mobility services for individuals with disabilities. This experience is integrated in the OTD curriculum, and Dr. Short has served with students in Romania, Haiti, Guatemala, and Peru. He was appointed a visiting professor of occupational therapy at Liaocheng University in Shandong Province, China, in the summer of 2016. For his advancement of the profession internationally, he was awarded the AOTA International Service Award.
In his free time, Dr. Short enjoys spending time with his wife and daughter, playing tennis, reading, and traveling.
"For it is by grace you have been saved, through faith — and this is not from yourselves, it is the gift of God — not by works, so that no one can boast. For we are God's handiwork, created in Christ Jesus to do good works, which God prepared in advance for us to do." Ephesians 2:8-10