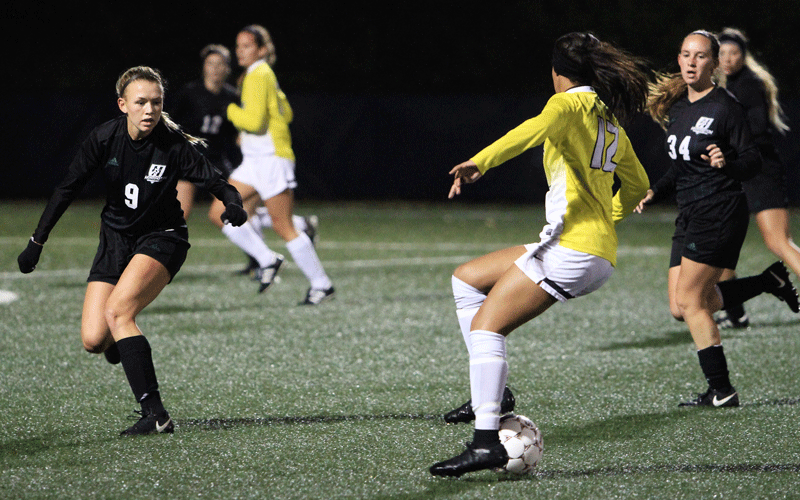 SPRING ARBOR, Mich. - The 4th-seeded Forester women's soccer team's season came to an end Saturday night as they suffered a 7-0 loss to top-seeded Spring Arbor University at the Cougar Soccer Complex.

While the lopsided outcome was HU's biggest deficit of the season, there is still plenty of reason to celebrate this team. The Foresters (10-8-2) advanced to the semis for the first time since 2013, tallied double-digit wins for the first time since 2012 and hosted a postseason match for the first time since 2010.

"Tonight certainly wasn't the result we were hoping for but that doesn't take away from the incredible work put in this season by this family," said Coach Burge. "These ladies have worked day in and day out and it shows on the field and even more so off the field in the way they love each other, love the Lord and love those around us."

The Cougars, the 2015 National Champs and 2016 National Runners-Up, made it abundantly clear that their No. 3 ranking is legitimate and are likely to make a deep run again in the national tournament as they raced out to a 3-0 advantage within the opening 20 minutes and never looked back on the way to their 18th win of the year and a spot in the finals of the Crossroads League Tournament.

The loss brings an end to HU's season but Burge's sentiments about her squad is clear. "I am one extremely blessed coach. We're looking forward to building upon the momentum established this season but we will certainly miss this service-driven senior class! God no doubt has incredible plans for their futures."

The Huntington University Foresters compete in 17 intercollegiate sports for men and women. In the past decade, Huntington has produced 38 NAIA All-America honors and 274 All-America Scholar-Athlete honors. Huntington University is a comprehensive Christian college of the liberal arts offering graduate and undergraduate programs in more than 70 academic concentrations. U.S. News & World Report ranks Huntington among the best colleges in the Midwest.