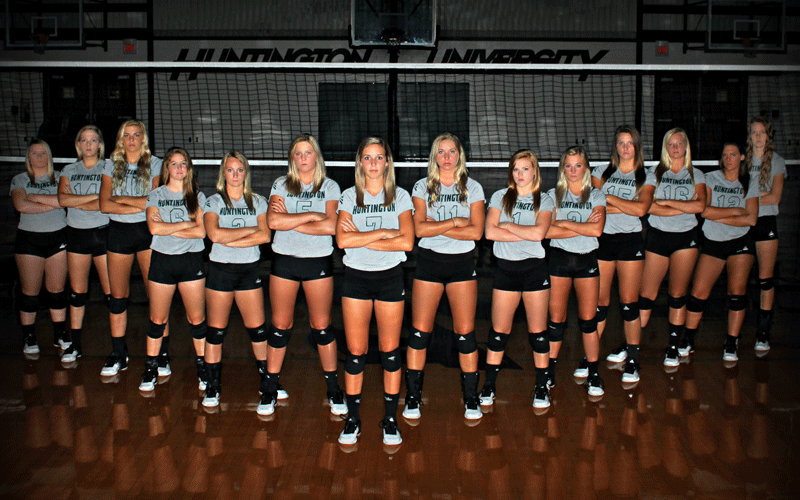 Provided by Steve Clark, The Huntington County TAB

HUNTINGTON, Ind. - For the Huntington University volleyball team, it's no secret what it needs to improve on in order to continue climbing the ranks of the Crossroads League. One of the best defense teams in the conference last year, the Foresters enter this season focused on bringing their offensive game up to the same level.

"We were so good defensively last year," says Head Coach Kyle Shondell of his team, which led the league in blocks and slotted third in digs. "The only reason we didn't win any more games is because we couldn't put balls away.

"You're supposed to score points in this game; we didn't do a lot of that."

Out of 10 teams, Huntington finished eighth in kills and ninth in hitting percentage. To improve in those areas, Shondell has increased the team's offensive drills, beginning with practices this past spring.

"We looked at what we needed to get done," he says. "We did more offensive work and working with our setters and our attackers and those people to get some progress there, working on that connection.

"We did more this spring than I'm used to doing, period. Didn't do nearly as much defense and serve receive – those are things they're usually strong at – but I figured, well, we're already strong at those things, let's get the rest of the game up to par."

Huntington's efforts to improve on offense are bolstered by the return of last season's top two offensive performers, Josie Beaver and Audrey Mallers. The 2015 campaign saw Beaver rack up a team-high 282 kills, which earned her first-team all-conference honors, and Mallers produce 244 kills to go with a team-best 27 aces.

Accordingly, Shondell's expectations for both players are high.

"That was the first time in her life she had played either pin, left side or right side," says Shondell of Beaver, a junior, who switched positions last season. "She'd been in the middle her whole life. So, that was just kind of the beginning of an adjustment for her last fall.

"This spring we worked a lot on just getting her more comfortable with that position, so she might be even better there."

Of Mallers, a senior, Shondell says it's not a coincidence that the team's play last season improved at the same time Mallers' did.

"When we started winning eight consecutive games, nine out of 11, whatever it was, she was awfully good," he remarks. "This spring, she kind of carried us at times. She's not someone that's going to grab you by the shirt and throw you where to go, but she's somebody that knows how to play the game and knows how to score points and for a team that needs to do that, I think she'll be a big piece."

While the Foresters may need to improve on offense, Shondell is confident that their defense will once again be great.

"We should be the best defensive team in the conference, with the pieces we have and the amount of work we'll put into it," he states. "I don't know who'd be better."

Helping Huntington maintain its reputation as one of the league's defensive powers will be Danielle Gurwell and Kate Cobb, two of the team's key contributors in that area last year. Gurwell, a junior, tallied 103 blocks to finish fifth in conference while Cobb, also a junior, totaled 103 digs to place fifth among her league peers. For her efforts, Cobb earned a first-team all-conference nod.

As enthusiastic as Shondell is about the team's returning players in both phases of the game, he's just as excited by the arrival of several new faces. Among those first-time Foresters will be former Huntington North High School standout Mikayla Carpenter. A junior transferring from Trine University, Shondell sees Carpenter capably filling the defensive specialist role that was held last season by the graduated Katie DePew.

Two other new Huntington players include Tailor Schultheis, a sophomore transferring from Indiana University South Bend, and freshman Paige Eakright, a product from nearby Homestead High School, in Fort Wayne.

"(Schultheis) played middle most of her life, up until last year at South Bend," notes Shondell."She was one of their better players, if not their most efficient player, and we played them up there. We'll try her out both middle and outside. We'll see where she fits."

Shondell envisions Eakright playing on the outside and praises her striking ability.

"A lot of players in our league just jump and hit hard," he observes. "She hits as hard as anybody, but has a multitude of shots. She knows how to use them.

"She's got a lot of work to do, but I think that by the time she leaves here, she could be one of the best we've had."

Huntington finished 13-15 last season for its best record since 2009. The Foresters came in sixth in league play with an 8-10 mark, which qualified them for the postseason conference tournament for the first time since the aforementioned '09 campaign. In the tourney, Shondell's squad upset third-seeded Taylor University in quarterfinals for the program's first postseason win since 2007. Huntington went on to lose in semifinals to Indiana Wesleyan University.

Shondell's goal for this year's team is a top-four league finish, followed by a run to the conference tournament title game, where a bid to the NAIA National Championship Tournament will be on the line for the first time ever. Previously, only the conference's regular-season champ earned a national tourney berth, but the NAIA changed that in the offseason, says Shondell.

Quite a bit of change has occurred in the Crossroads League, period, since last season, says Shondell, and he sees Huntington benefitting as a result.

"There's been a lot of turnover in coaching staffs and transfers and players leaving different teams towards the top of our conference, so it'll be a little bit different-looking league," he says. "But we're one of the programs that has about everything you could going well for it."

Huntington opens its season by hosting the Forester Invitational, which will run from Friday, Aug. 19 to Saturday, Aug. 20. The Foresters' first match will be Friday at 7 p.m. versus William Penn University.

The Huntington University Foresters compete in 17 intercollegiate sports for men and women. In the past decade, Huntington has produced 38 NAIA All-America honors and 254 All-America Scholar Athlete honors. Huntington University is a comprehensive Christian college of the liberal arts offering graduate and undergraduate programs in more than 70 academic concentrations. U.S. News & World Report ranks Huntington among the best colleges in the Midwest.