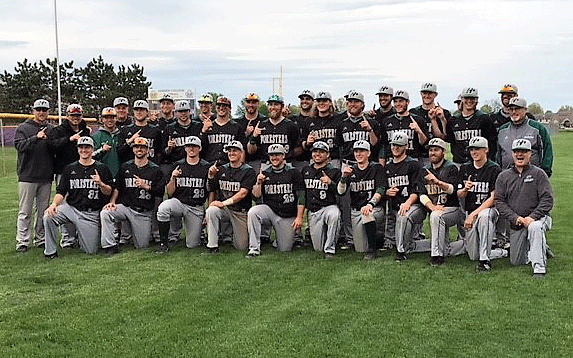 GOSHEN, Ind. – The #24 HU baseball team (28-11, 21-5) took care of business Friday night at J. Harold Yoder Field by running away with a 16-2 win over Maple Leafs of Goshen College (23-26-1, 11-15) in the nightcap to clinch sole possession of the Crossroads League regular season title.

As the league champs, the Foresters have locked in a spot at the 61st Annual NAIA Baseball World Series. Opening round is slated for May 15-18. HU will play at one of nine opening round sites to be announced shortly after the conference tournament.

HU has claimed eight regular season league titles during Coach Frame's tenure and three trips to NAIA National Championships.

After suffering a 4-3 loss in the opener, the Foresters made sure game two ended much differently. Coach Frame's squad spent the first four frames building a 10-0 lead. Both teams scored a pair of runs over the middle innings before the visitors erupted for five more runs in the eighth to mercy rule their hosts.

The lopsided affair is the eighth time this year HU has won by double digits.

The Foresters pounded out 16 hits with Will Coursen-Carr and Adam Roser posting some big numbers. Coursen-Carr sent two over the fence on the way to logging three hits for two RBI in addition to drawing two walks. Roser went 4-for-5 at the plate and collected five RBI.

Tyler Zimske registered his second homer of the year, a two-run blast, in the second while Shea Beauchamp drove in three runs in that same frame with one-crack of the bat - a double into deep left-center.

Dalton Combs also made his presence known offensively. He finished with two hits and three walks, scored three times and registered an RBI. As a team, Huntington drew eight walks while striking out four times.

Mason Shinabery (4-2) spent the first six innings on the mound and gave up seven hits, two runs and a walk while fanning six for the win. Tarrin Beachy finished things by giving up just one hit in two innings of scoreless relief.

Game one was one the Foresters would like to have back as they outhit Goshen 10-7 but couldn't translate it into a scoreboard advantage. The Maple Leafs scored a run in four of the first five frames to quietly ride out the win.

HU's only lead came in the second inning. TJ Lindstrand scored on Goshen's only error of the contest, a wild throw, after which Dylan Henricks tripled in a run for a 2-1 advantage. Two frames later, the Maple Leafs were back on top 4-2. It stayed that way until the sixth when Michael Crowley clobbered his first pitch over the left field fence but it wasn't enough to prevent the upset.

Tanner Wyse was charged with the lost. He tossed 5.1 innings and gave up seven hits, four runs, three of which were earned, while striking out seven.

The Foresters are back at it tomorrow for a single-game with the Maple Leafs. Opening pitch slated for 1:00 p.m.

The Huntington University Foresters compete in 17 intercollegiate sports for men and women. In the past decade, Huntington has produced 38 NAIA All-America honors and 254 All-America Scholar Athlete honors. Huntington University is a comprehensive Christian college of the liberal arts offering graduate and undergraduate programs in more than 70 academic concentrations. U.S. News & World Report ranks Huntington among the best colleges in the Midwest.