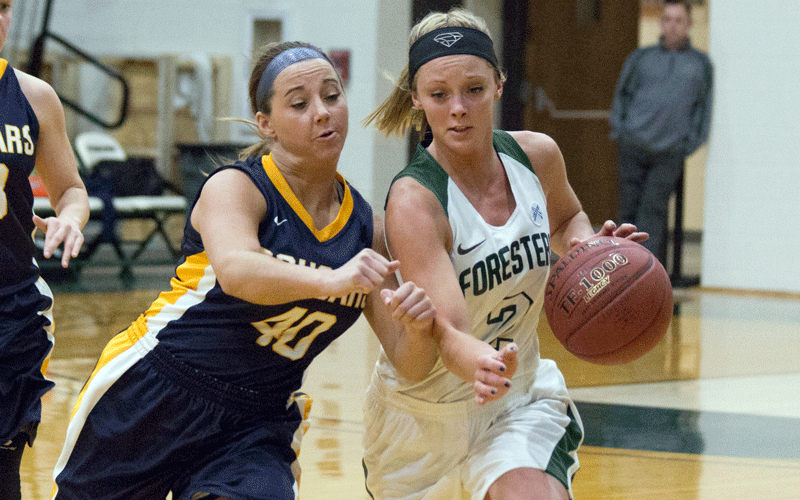 HUNTINGTON, Ind. – Despite a slow start, the #25 Forester women's basketball team cruised to an 82-67 win over Spring Arbor University Saturday afternoon at Platt Arena.

Ice cold shooting was an understatement for HU through the opening eight minutes of play as they managed just four points on 2-for-13 shooting to find themselves in a 15-4 hole. But there was no panic in Coach Culler's crew compliments of their sparkplug Hailey Krewald.

The 5-7 junior capitalized on an old-fashioned three-point play, swiped a steal at the other end of the floor which led to an easy layup for Allyson Trout and then buried a three to close out the quarter to spearhead an 11-3 run and trim the lead to just three at 18-15 by the first break.

The Foresters scored the first six points of the second quarter to take what proved to be a permanent lead of 23-18 by the 8:25 mark. The Cougars pulled within one, 25-24, but it was all HU after that as the final six minutes leading up to halftime favored the hosts 20-4 for a 45-28 tilt at the break.

Krewald came up big for Huntington in the first 20 minutes to finish with 11 points and six steals. Trout was equally impressive as the sharp-shooter drained four from downtown on her way to 14 first half points.

Huntington poured it on the third quarter to up their lead to 24, 67-43, behind a balanced attack. Miranda White scored all six of her points in the ten-minute segment as one of five Foresters to find their way into the scoring column in the third.

While the fourth quarter favored SAU, it was too little too late as HU (9-8, 3-3) secured their third Crossroads win while Spring Arbor (9-9, 0-6) remains winless in league play.

Miranda Palmer scored a quiet 18 points to lead HU. Trout finished with 17 points. Krewald did a little bit everything for her team by registering 14 points, five rebounds, four assists and game-best six steals. Maddie Richer tallied ten points, the third time this season the HU general has scored in double digits. Brooke Saylor corralled eight rebounds to enjoy game-high rebounding honors.

Aimee Konkel paced the Cougars with a season-best 21 points while Kylie Townsley, the league's third leading scorer, added 12 points in the losing effort.

Despite their dismal shooting in the opening frame, the Foresters finished 29-for-57 for the game for 50.9 percent which included going 7-for-16 from deep. HU cashed in on 13 of their 14 freebies for 92.9 percent. The Cougars shot 44.4 percent from the floor (24-for-54) and 72.2 percent from the charity stripe (13-for-18).

Huntington hits the hardwood again on Wednesday to host the University of Saint Francis at 7:00 p.m.

The Huntington University Foresters compete in 17 intercollegiate sports for men and women. In the past decade, Huntington has produced 38 NAIA All-America honors and 254 All-America Scholar Athlete honors. Huntington University is a comprehensive Christian college of the liberal arts offering graduate and undergraduate programs in more than 70 academic concentrations. U.S. News & World Report ranks Huntington among the best colleges in the Midwest.