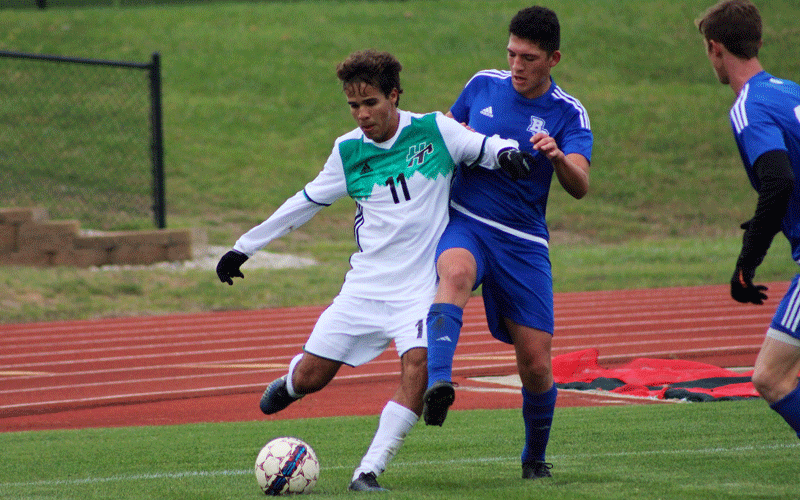 HUNTINGTON, Ind. - The 4th-seeded Forester men's soccer team punched their ticket to the semifinals of the Crossroads League Tournament Wednesday afternoon with a 2-0 shutout over 5th-seeded Bethel College in the quarterfinals of the tourney at King Stadium. It's the second straight year HU has won their opening match of postseason play and the first W over Bethel since September 25, 1993, when they handed the Pilots a 2-0 loss.

Valentin De Coninck and Matheus Louzada teamed up in the first half to provide all of their team's offensive firepower. Louzada found De Coninck on a free kick in the 25th minute who one-timed it into the back of the net for a 1-0 advantage. De Coninck has scored in HU's last two contests.

The freshman forward returned the favor four minutes later by picking the pocket of a Bethel defender and then crossing the ball to Louzada who smashed it home for a 2-0 lead that stood the test of time. Louzada leads the team in scoring with eight goals and eight assists on the year for 24 points, which ranks him third among his league peers.

While the Pilots fired off 16 shots to HU's six, Coach Lawson's crew was resolute as they held their visitors scoreless, their third straight clean sheet with Troy Hester earning the win in frame each time. The senior keeper finished with five saves.

"Our defense was once again outstanding from Troy to our backline to Miguel directing traffic," said Coach Lawson. "Stephen Brown came off the bench to offer us some great minutes tonight. He was where he needed to be, when he needed to be."

The veteran skipper was also pleased with the play of De Coninck. "Val continues to shine for us. He really got things going for us today on that set piece by getting the inside track to beat his man to the ball for our first score."

"Overall, the boys earned this win and deserve the opportunity to move on," said Lawson. "I thought we showed great maturity to see this match through - especially in the second half when we didn't get drawn into spending any negative energy on things out of our control."

HU (10-4-4) now awaits the winner of #1 Spring Arbor/#8 Taylor for a matchup on Saturday in semifinal action of the CL tourney.

The Huntington University Foresters compete in 17 intercollegiate sports for men and women. In the past decade, Huntington has produced 38 NAIA All-America honors and 274 All-America Scholar Athlete honors. Huntington University is a comprehensive Christian college of the liberal arts offering graduate and undergraduate programs in more than 70 academic concentrations. U.S. News & World Report ranks Huntington among the best colleges in the Midwest.