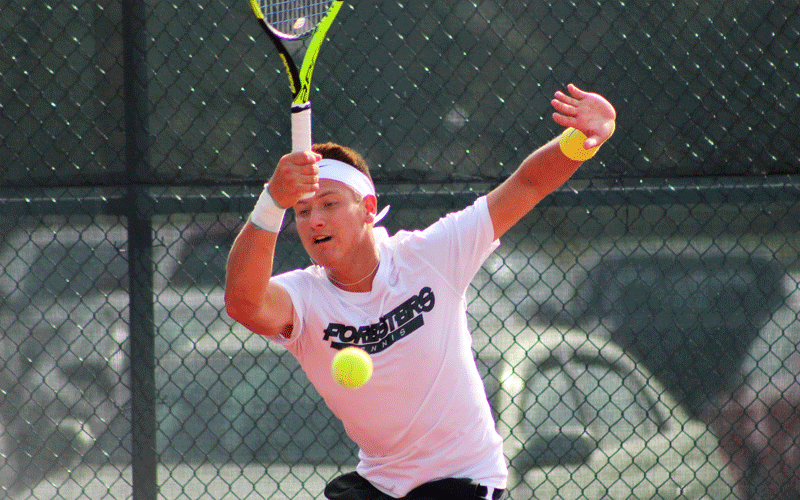 HUNTINGTON, Ind. - The 3rd-seeded Forester men's tennis team's season came to a premature ending Tuesday night at Klopfenstein Courts as 6th-seeded Taylor University knocked off their hosts, 5-4, in quarterfinal action of the Crossroads League tournament.

It was a rollercoaster of emotions as HU found themselves down 2-1 after doubles play but quickly made up ground by winning three of the top four spots in singles action to surge ahead 4-3 with No. 5 and No. 6 singles remaining. Both matches went into three sets with the Trojans coming out on top for the come-from-behind win to advance to the semifinals of the tourney.

The win avenges TU's 6-3 loss to the Foresters in regular season play. Huntington wraps up the fall season with an overall record of 10-4.

SINGLES RECAP
#1 - Ignacio Poncio (HU) def. Christen Jacquottet (TU) 6-2, 6-2
#2 - Rodrigo Manzo (HU) def. Salvador Lo Cascio (TU) 6-1, 6-2
#3 - Giovanni Martinez (HU) def. Andre Danelli (TU) 7-5, 2-6, 6-1
#4 - Jake Herbruck (TU) def. Mariano Echevarria (HU) 6-4, 7-5
#5 - Stephen All (TU) def. Jacob Shelton (HU) 2-6, 7-5, 6-2
#6 - Alex Jung (TU) def. Brody Worl (HU) 1-6, 7-5, 6-3

DOUBLES RECAP
#1 - Poncio/Echevarria (HU) def. Jung/Herbruck (TU) 9-8 (7-5)
#2 - Danelli/Jacquottet (TU) def. Manzo/Martinez (HU) 8-2
#3 - All/Jacob Scott (TU) def. Luke Buttermore/Shelton (HU) 8-6

The Huntington University Foresters compete in 17 intercollegiate sports for men and women. In the past decade, Huntington has produced 38 NAIA All-America honors and 274 All-America Scholar Athlete honors. Huntington University is a comprehensive Christian college of the liberal arts offering graduate and undergraduate programs in more than 70 academic concentrations. U.S. News & World Report ranks Huntington among the best colleges in the Midwest.