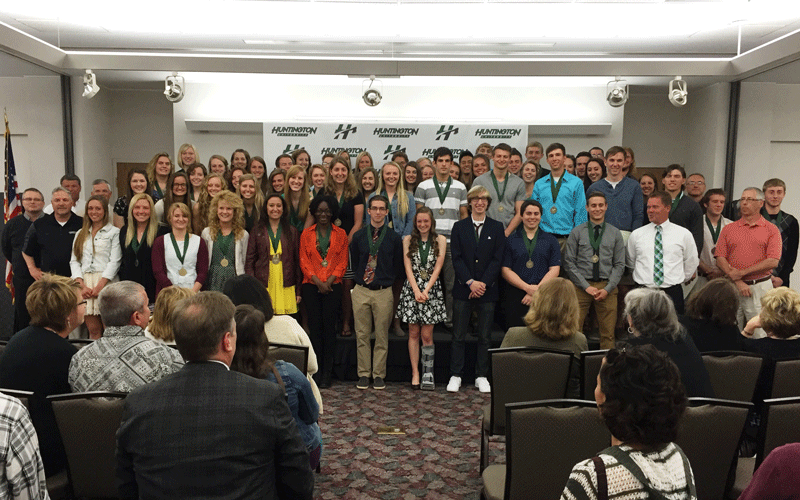 HUNTINGTON, Ind. – Huntington University Athletic Director Lori Culler has announced that 73 HU student-athletes representing 16 different teams have been named to this year's Athletic Honor Roll.

In front of 250 family and friends, student-athletes were recognized for their outstanding academic achievement at the 2nd annual Athletic Honor Roll Ceremony on Sunday.

"What a tremendous day of celebration as we inducted 73 of our finest student-athletes into our Athletic Honor Roll," said Culler. "These student-athletes not only excel at a high level on the playing field, but they also strive to use their God-given talents and abilities in the classroom as well. These 73 individuals exemplify the true definition of all that we envision our student-athletes to be."

In order to be eligible for this honor, a student-athlete must achieve a cumulative GPA of 3.5 or higher.

Below are the student-athletes listed by sport.

Baseball - Tyson Dietrich, Brice Urschel, Tanner Wyse
Men's Basketball - Derek Hinen, Kyle Platt
Women's Basketball - Jaclene Bonnema, Lacy Deitrick, Gina Eisenhut, Miranda Palmer, Allyson Trout, Brooke Yoder
Men's Bowling - Colin Madden, Joe Miller
Cheerleading - Hannah Barrett, Janelle Gouwens, Bailee Overfelt
Men's Cross Country - Michael Bowman, Tyler Herber, Zachary McIntyre, Brian Menzie
Women's Cross Country - Marie Ditzler, Gretchen Pyper, Natalie Spahr, Christine Sparks, Krista Wood,
Golf - Zach Borntreger
Men's Soccer - Samuel Barrett, Daniel Becker, Nicolas Bond, James Handtke, Troy Hester, Robert Hughes, Tyson Kalischuk, Ryan Lechlitner, Lucas Lengacher, Jaron Lewton, Hayden Suter, Sam Thompson
Women's Soccer - MaKayla Barrantes, Tabitha Branyan, Toby Carman, Paige Coolman, Elizabeth Ellis, Becca Grimes, Audra Klopfenstein, Olivia Knispel, Nicole Pennington, Amy Snider, Brandi Spear, Rachel TerMarsch, Claire Tribbett
Softball - Lea Buckenmyer, Cristin Carter, Caylan De Lucia, Audra Klopfenstein, Katelyn Shafer
Men's Tennis - Adrian Beloqui, Jacob Cross
Women's Tennis - Kerrie Ecker, Constanze Golz, Erin Van Kampen
Men's Track - Michael Bowman, Brooks Gerke, Tyler Herber, Zachary McIntyre, Brian Menzie, Antonio Castillo, Stephen Keys, Jonathan VanDuyne
Women's Track - Paige Coolman, Marie Ditzler, Jean Donaldson, , Christiana Hicks, Gretchen Pyper, Natalie Spahr, Christine Sparks, Krista Wood, Michelle Hoover-Ferretti, Sarah Johnson, Nicole Pennington
Volleyball - Josie Beaver, Kelsey Kruse, Audrey Mallers, Brittany Rooze, Janelle Wilcox

The Huntington University Foresters compete in 16 intercollegiate sports for men and women. In the past decade, Huntington has produced 38 NAIA All-America honors and 222 All-America Scholar Athlete honors. Huntington University is a comprehensive Christian college of the liberal arts offering graduate and undergraduate programs in more than 70 academic concentrations. U.S.News & World Report ranks Huntington among the best colleges in the Midwest.