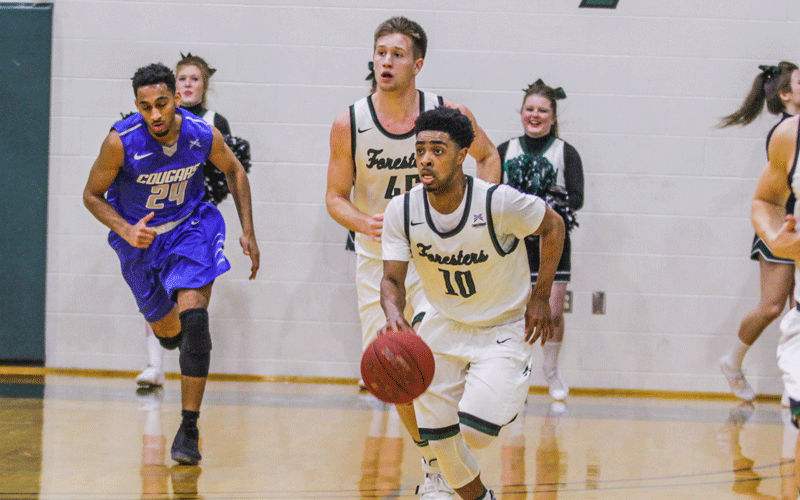 HUNTINGTON, Ind. – The Forester men's basketball team toppled #3 University of Saint Francis Tuesday night at Platt Arena in a thrilling 83-79 affair. The win ups HU's record to 12-7 overall, 3-4 in league play as they boast their second straight conference W.

After going a perfect 11-0 to open the season, the Cougars have now lost four out of their last eight games to drop to 15-4 on the year, 5-2 in Crossroads action.

The game came down to free throws and fortunately for Huntington, senior Daniel Woll knocked down a pair with less than two ticks remaining to seal the win. The march to the line began with just under a minute to play with the hosts holding onto a 76-69 advantage.

Leading up to Woll's big throws, the Foresters had gone 6-for-10 from the charity stripe to give the visitors a glimmer of hope as they were able to whittle the seven-point difference down to just a deuce before Woll finally made two in a row to put the game out of reach.

Woll had plenty of other shining moments throughout the night as he finished with a game-high 21 points which included going 14-for-16 from the line to go along with seven rebounds, two assists and two blocks to pace his team past last year's NAIA national championship runners-up.

Mike Bush had his own set of shining moments with none bigger than a 90-second span when he ripped off four 3s to turn his team's one-point deficit of 62-61 into their biggest lead of the half at 73-64 with 6:23 to go. It was a game-changing 90 seconds as his barrage of triples not only silenced a Cougar squad that had just gone on a 9-0 run but also gave the Foresters the boast they needed to polish off their visitors.

The 62-61 disadvantage was the fourth and final time HU trailed with the other three times coming in the first half. The Cougars' largest lead came in the opening minute of play when they scored on their first two possessions for a 4-0 advantage while Huntington's largest lead, 33-22, came at the 6:19 mark of the first period after Austin Karazsia scored back-to-back buckets to cap off an 11-1 run.

Saint Francis counter attacked HU's 11-1 spurt by outscoring their hosts by ten leading up to intermission to slice the lead to a single point, 40-39, by halftime before the Foresters enjoyed the lead for most of the final 20 minutes.

Bush tallied 16 points and handed out a game-best 15 dimes. Tyler Arens added 13 points and seven rebounds while Karazsia came off the bench to chip in 12 points.

Bryce Lienhoop and Kyle Sovine each poured in 18 points to lead the Cougars. The twosome also ripped down 12 and 14 boards respectively for a pair of double doubles. Chandler White finished with 15 points. Kegan Comer and Evan Henry registered 11 points apiece as all five of the Cougar starters scored in double digits.

HU shot 46.6 percent from the field (27-for-58) which included 13 long balls while limiting the visitors to 40.6 percent shooting (26-for-64) and eight triples. Turnovers were a wash as each team committed 14 and scored 13 points off their opponents' miscues.

While the rebounding disparity was just one with USF enjoying a 31-30 tilt, they finished with ten offensive boards to Huntington's five to outscore their hosts 13-2 on second chance points.

The Foresters hit the road on Saturday to take on Marian University at 3:30 p.m.

The Huntington University Foresters compete in 17 intercollegiate sports for men and women. In the past decade, Huntington has produced 38 NAIA All-America honors and 254 All-America Scholar Athlete honors. Huntington University is a comprehensive Christian college of the liberal arts offering graduate and undergraduate programs in more than 70 academic concentrations. U.S. News & World Report ranks Huntington among the best colleges in the Midwest.