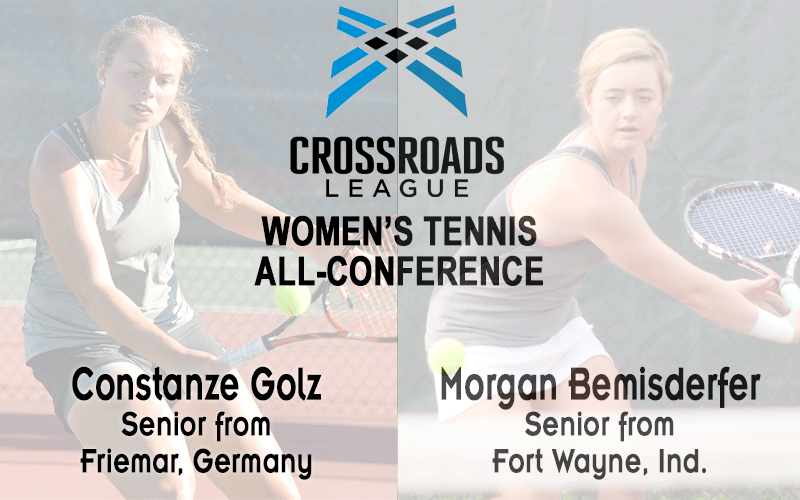 HUNTINGTON, Ind. - For the third consecutive time, seniors Morgan Bemisderfer and Constanze Golz were named to the Crossroads League All-Conference Team as announced earlier today.

The duo combined for 19 wins against just nine losses in the conference regular season on the way to guiding the Foresters to a third place finish in the league standings.

As HU's No. 1 player, Golz posted a 4-3 record in singles action in the league at the top spot. She also boasted a 5-2 conference record at #2 doubles. The German native wrapped up the fall season with an overall singles record of 8-4 and that same record in doubles play.

Bemisderfer, who played at the No. 3 spot in singles action early on before transitioning to the No. 2 spot by season's end, finished the fall with a 5-2 record against her league foes. She also went 5-2 in doubles action at the #1 spot. The Fort Wayne native finished the fall season with an overall singles record of 9-4 and an overall doubles record of 8-4.

Third-seeded Huntington made it to the semifinals of the Crossroads League tourney before being ousted by 2nd-seeded Marian. They wrap up the fall portion of their schedule with an 8-3 record which included going 6-2 in league play.

The Huntington University Foresters compete in 17 intercollegiate sports for men and women. In the past decade, Huntington has produced 38 NAIA All-America honors and 254 All-America Scholar Athlete honors. Huntington University is a comprehensive Christian college of the liberal arts offering graduate and undergraduate programs in more than 70 academic concentrations. U.S. News & World Report ranks Huntington among the best colleges in the Midwest.