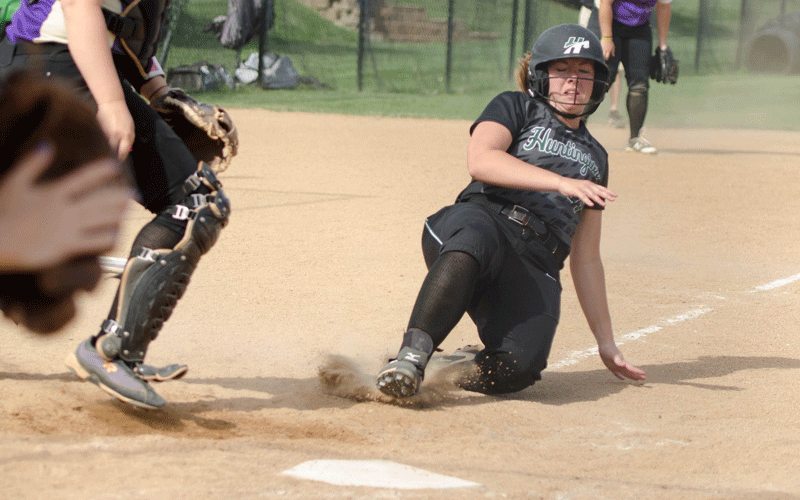 HUNTINGTON, Ind. – Freshman Karley Blankenship's walk-off double in game one lifted the Forester softball team past #RV Taylor University 4-3 to hand the Trojans their sixth conference loss of the year but it was revenge in the nightcap as TU (28-13, 20-6) ran away with a 10-2 win to split the series with their hosts.

Setting the stage for Blankenship's heroics was Abby Keaffaber's two-out blooper into left for a single in the bottom of the seventh but it was Ashley Brown, pinch running for Keaffaber, who actually plated the game-winner as she made her way from first to home on Blankenship's shot to the fence. The run was HU's only earned run of the contest as they had a little help, four Taylor errors, in scoring their first three runs.

The Trojans jumped out to an early lead on back-to-back RBI-hits by Taylor Wilson and Alex Lovelace in the second for a 2-0 advantage but it was short-standing as the Foresters matched that in the third for a 2-2 stalemate. After consecutive TU errors to land runners on the corners, Camille Furrow picked up her team-leading 26th RBI of the year on a fielder's choice after which Sabrina Bethel ripped one up the middle to plate the second run.

Natalie McGuire was the beneficiary of another Trojan botched play in the fourth to reach first, stole second and then came around to score on Casey Lehman's double into deep left-center for a 3-2 nod. But it was Taylor's turn to take advantage of an HU blunder that loaded the bases in the next frame after which Justice Carmichael found a hole in left-center to knock in the tying run at 3-3 before Blankenship's game-ending blast.

Lairen Miller (11-8) picked up the complete-game win on the mound by giving up eight hits, three runs, two of which were earned, and two walks while striking out one.

HU finished with six hits with Blankenship collecting two of them.

The Trojans dominated game two as they scored twice in the first and added three more to their total in the second to open up a 5-1 lead. Both teams scored once in the fourth but then Taylor took over in the sixth to touch home four times. HU had no answer in their half of the frame to end things an inning short because of the eight-run rule.

Huntington had several opportunities to keep things close, especially in the middle innings, by landing runners on base but just couldn't bring them in as they finished with seven hits and left just as many stranded. Miller drove in HU's first run in the opening frame by doubling in Audra Klopfenstein who had logged her own two-bagger just prior.

Run two for the Foresters came by way of Amber Klopfenstein's no out RBI-single with bases loaded in the fourth. It had all the makings of a big inning for Coach Gower's crew as the bases remained loaded after Klopfenstein's base poke but TU pitcher Hannah Robbins worked three straight outs much to the chagrin of the Foresters.

Miller and Bethel each finished with two hits to pace Huntington offensively.

Furrow took the loss for HU. She tossed the first 3.1 innings and gave up seven hits for six runs, four of which were earned.

The Foresters (20-16-1, 15-12) are back in action on Friday when they host Saint Francis at 4:00 p.m. in a make-up game from April 10.

The Huntington University Foresters compete in 17 intercollegiate sports for men and women. In the past decade, Huntington has produced 38 NAIA All-America honors and 254 All-America Scholar Athlete honors. Huntington University is a comprehensive Christian college of the liberal arts offering graduate and undergraduate programs in more than 70 academic concentrations. U.S. News & World Report ranks Huntington among the best colleges in the Midwest.