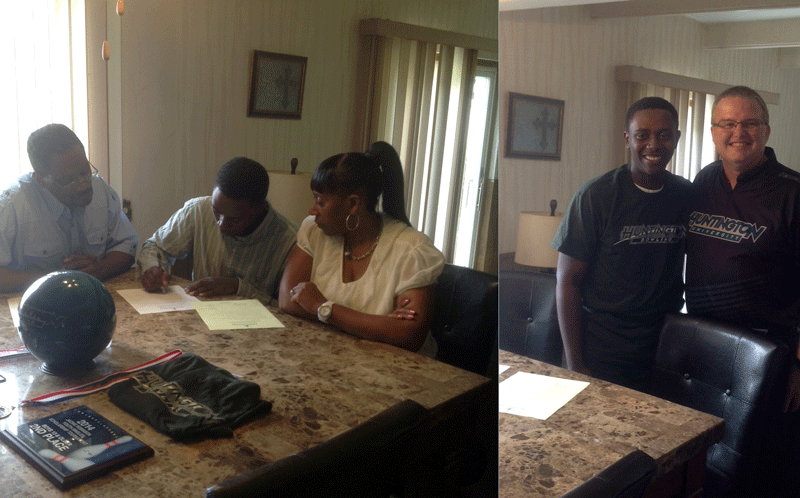 HUNTINGTON, Ind. - Justin Coleman has signed his letter of intent to bowl for Huntington University this fall. The Paul K. Cousino High School (Warren, Mich.) standout graduated this spring and plans to major in in Broadcast-Fusion Media and Communication Studies at HU.

Coleman helped guide his Patriot squad to a 1st place finish in the M.A.C. White Division Tournament in addition to helping secure 3rd place in the Macomb County High School Team Championships.

In individual play he has placed 1st in the Metro Detroit Youth Tournament and 2nd in several Michigan tournaments including the Jackie Robinson Tournament in Canton, the Tony Lindemann Tournament in Sterling Heights, the Michigan State Youth Championships in Muskegon, and Metro Detroit Youth Tournament. He also placed 3rd overall in the Michigan State Youth Championships.

Coleman has had three 800 series including 800, 812 and 821, and his high game is 298. He has a high average of 220.

Pictured are father Moses, Justin and mother Lolita, and Justin and HU Coach Jim Bischoff.

The Huntington University Foresters compete in 16 intercollegiate sports for men and women. In the past decade, Huntington has produced 38 NAIA All-America honors and 222 All-America Scholar Athlete honors. Huntington University is a comprehensive Christian college of the liberal arts offering graduate and undergraduate programs in more than 70 academic concentrations.U.S.News & World Report ranks Huntington among the best colleges in the Midwest.