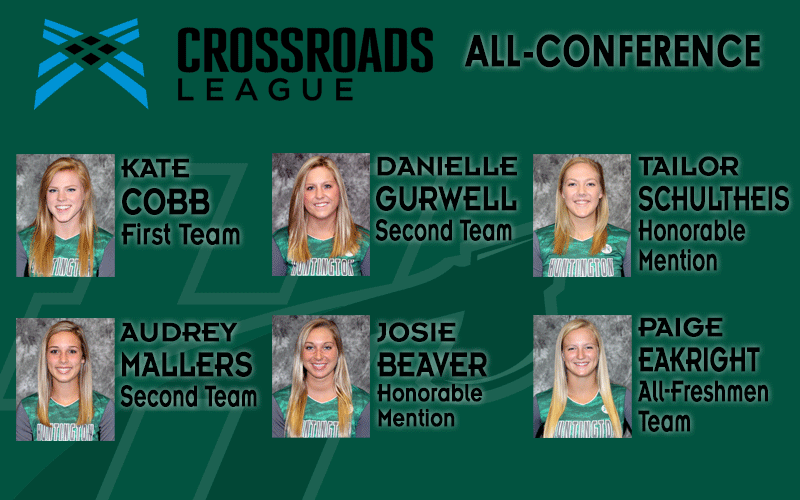 HUNTINGTON, Ind. – The Crossroads League has announced the 2016 list of All-Conference volleyball honorees and among the list is six Foresters.

For the second straight season, junior Kate Cobb earned First Team All-Conference accolades as one of the league's top defensive specialist.

The Elkhart native (Elkhart Central HS) racked up a team-best 640 digs this fall for 5.4 digs per set which ranks her third among her conference peers. She finished the year with 501 receptions and only 14 errors for a passing accuracy of .972. She also recorded a team-best 19 aces and .957 serving percentage.

Cobb's 97.2 percent passing accuracy tops the Huntington record books for best percentage in a season. She also ranks second on HU's all-time dig list with 1,793 career digs.

Senior Audrey Mallers (Fort Wayne, Ind., Carroll HS) saved her best for last and for her efforts earned Second Team All-Conference honors after being named Honorable Mention last year. The 5-9 outside hitter led the Foresters in kills with 254 and finished second in passing (436) and digs (323). She also collected 45 blocks over the course of the season.

Mallers' name can also be found in the HU record books for her passing proficiency. She boasts a career percentage of 93.5 to rank second on the all-time passing list.

Joining Mallers on the Second Team was junior Danielle Gurwell from Byron, Ohio (Bryan HS). The 6-0 middle blocker led the Foresters in blocking with 78 which included 17 solo blocks. She currently ranks 6th in the league in blocking with .81 blocks per set. She finished the year with 190 kills and a team-best .271 hitting percentage.

Outside hitter Josie Beaver (Huntington, Ind., Huntington North HS) was named Honorable Mention All-Conference, the third time in as many years she's been recognized by the league. The 5-10 junior posted 246 kills and a .151 hitting percentage. She also collected 69 blocks this season which lands her 11th in the league for blocks per set (.73).

Tailor Schultheis was also named to the Honorable Mention Team. An IUSB transfer and Elkhart native, Schultheis quickly made her presence known this season as one of HU's top outside hitters. The 5-10 sophomore finished the year with 176 kills to go along with 20 blocks.

Rounding out the list of All-Conference honorees was rookie Paige Eakright. The Fort Wayne native (Homestead HS) was one of six freshmen to earn a spot on the All-Freshmen Team. She registered 166 kills and 21 blocks on the year.

The Foresters (13-19, 7-11) finished the year with 361 blocks for the No. 2 spot in the league in blocks per set at 2.1.

The Huntington University Foresters compete in 17 intercollegiate sports for men and women. In the past decade, Huntington has produced 38 NAIA All-America honors and 254 All-America Scholar Athlete honors. Huntington University is a comprehensive Christian college of the liberal arts offering graduate and undergraduate programs in more than 70 academic concentrations. U.S. News & World Report ranks Huntington among the best colleges in the Midwest.