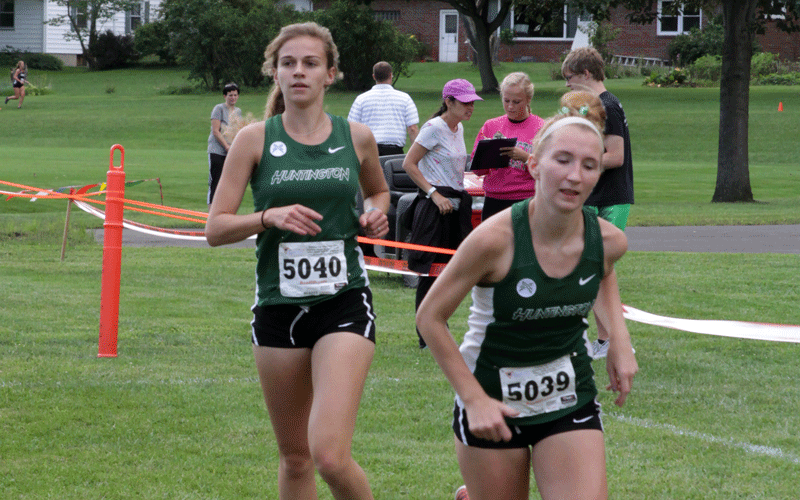 NORTH MANCHESTER, Ind. – The HU cross country teams opened up their season Thursday night at the Manchester University Hokum Karem where Aspen Dirr and Christine Sparks teamed up to win the women's race by clocking in at 36:34.5. The Forester pair averaged a 6:06/mile.

The Hokum Karem originated at Wabash College over 50 years ago. Legendary Little Giants Coach J. Owen Huntsman created the event which partners two runners together, alternating loops over a one-mile circuit for a total of six miles for women and eight miles for men.

Rosie Ditzler and Cassidy Johnson averaged 6:45 per loop to finish ninth out of 15 teams with an overall time of 40:28.6 while the threesome of Rachael Smelser, Bianca Tisdale and Amanda Fielding posted a time of 41:04.1 to place 11th.

As a team, the HU women finished third with 18 points behind Manchester (10) and Trine (17).

The Huntington men, claim fourth with 27 points behind Trine (11), Manchester (15) and Wabash (25). Zach McIntyre and Codi Wiersema paired up to claim eighth out of 25 teams by averaging 5:20 per mile for an overall time of 42:40.9. Six seconds later Kevin Moser and Austin Willey registered a time of 42:46.9 good for ninth and an average mile time of 5:21.

Michael Bowman and CJ Robertson posted a time of 44:39.3 to average 5:35 per loop for a 13th place finish.

The Foresters have a two-week break for competing in the Indiana Intercollegiates hosted by IU on September 16 at 3:30 p.m.

The Huntington University Foresters compete in 17 intercollegiate sports for men and women. In the past decade, Huntington has produced 38 NAIA All-America honors and 254 All-America Scholar Athlete honors. Huntington University is a comprehensive Christian college of the liberal arts offering graduate and undergraduate programs in more than 70 academic concentrations. U.S. News & World Report ranks Huntington among the best colleges in the Midwest.