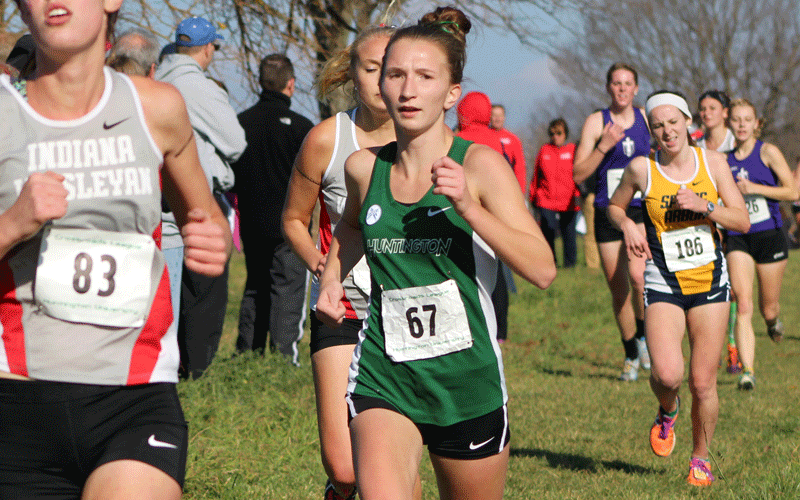 HUNTINGTON, Ind. - Running on her home course on Saturday, Huntington University freshman Aspen Dirr clocked in at 19:22.94 at the Crossroads League Cross Country Championships to finish 15th to earn the Foresters' only All-Conference award. Her position may also land her an individual invitation to the 2015 NAIA Championships to be announced Monday afternoon.

As a team, the Huntington women finished 4th among their league colleagues. Christine Sparks finished four runners behind Dirr in 19:34.12 for 19th place. The next three Foresters finished within seven spots of each other. Hannah Moore crossed the line in 20:06.03 for 25th, Marie Ditzler ran a great race to claim 29th in 20:20.67 and Krista Wood took 32nd in 20:33.11.

Other HU finishers included Cassidy Johnson (52nd, 22:01.09) and 56th Rachael Smelser (56th, 22:12.83).

Taylor earned their third consecutive league title with 38 points followed by Indiana Wesleyan (42), Marian (89), HU (120), Grace (167), Bethel (182), Mount Vernon (191) Spring Arbor (197), Saint Francis (203) and Goshen (266).

As it turns out, the HU men ran without their top two runners in Tyler Herber and Austin Presnell to finish ninth in Saturday's 8K with 265 points. Freshman Daniel Perry paced the Foresters with a 44th place finish in 28:28.25. Stephen Kays claimed 50th in 28:55.05.

Fifteen seconds later, Kevin Moser crossed the line in 29:10.20 for 54th place. Codi Wiersema came in next for Coach King's crew in 29:19.32 for 57th place while CJ Robertson posted a time of 30:10.07 for the 60th spot to round out HU's scoring. Zach McIntyre finished 61st in 31:06.95.

Indiana Wesleyan earned an automatic bid to the NAIA National Championships by clinching their fourth consecutive league title with 32 points followed by Marian (68), Taylor (79), Bethel (107), Goshen (126), Mount Vernon (152), Spring Arbor (198), Grace (215) and HU (265).

The Huntington University Foresters compete in 17 intercollegiate sports for men and women. In the past decade, Huntington has produced 39 NAIA All-America honors and 234 All-America Scholar Athlete honors. Huntington University is a comprehensive Christian college of the liberal arts offering graduate and undergraduate programs in more than 70 academic concentrations. U.S. News & World Report ranks Huntington among the best colleges in the Midwest.