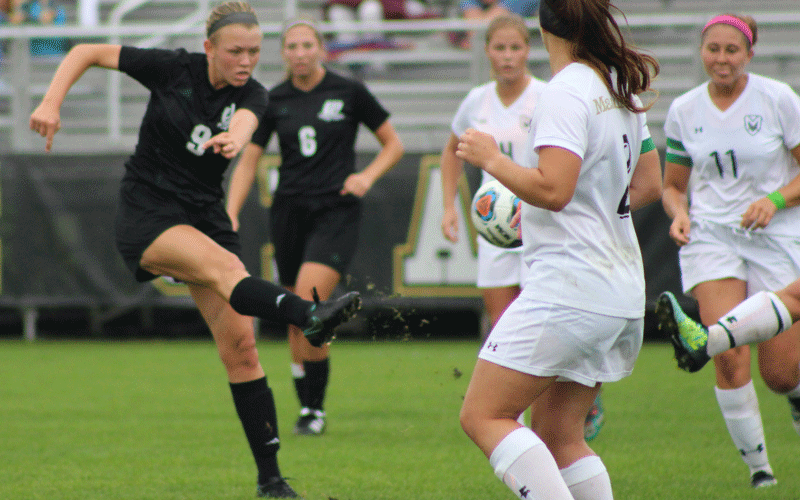 NORTH MANCHESTER, Ind. - It took just over six minutes for the Huntington women's soccer team to take control of Wednesday's match against Manchester University. Matéa Knispel spearheaded the effort by scoring twice in the opening 20 minutes on the way to HU's 5-0 road win over the Spartans.

The junior midfielder's pair of goals sandwiched an own goal for the early 3-0 lead that was never challenged. Knispel has scored four goals this season pushing her career total to 11.

The rest of Huntington's goals also occurred in the first half with Brandi Spear scoring on a breakaway at the 38:56 mark and Nicole Pennington sneaking in behind the defense for her first collegiate goal, an easy tap-in, just before halftime.

The victory is HU's third straight over Manchester. The win is also Huntington's second straight shutout with Paige Coolman logging both clean sheets in goal. The senior keeper finished with three saves.

Huntington finished with a season-high 39 shots, 14 on frame, to MU's 11.

"Tonight was a good opportunity for us to work on connecting and finishing the job once we transitioned to the attacking third," said Coach Burge. "The ladies have been working at creating opportunities and tonight that paid off."

The Foresters (2-3-1) return to the friendly confines of King Stadium on Friday to host the University of St. Francis (IL) at 4:00 p.m.

The Huntington University Foresters compete in 17 intercollegiate sports for men and women. In the past decade, Huntington has produced 38 NAIA All-America honors and 274 All-America Scholar Athlete honors. Huntington University is a comprehensive Christian college of the liberal arts offering graduate and undergraduate programs in more than 70 academic concentrations. U.S. News & World Report ranks Huntington among the best colleges in the Midwest.