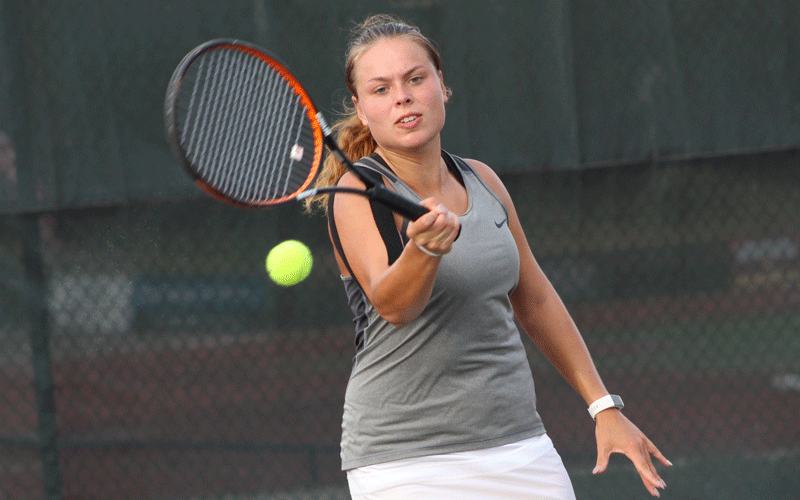 HUNTINGTON, Ind. - The 3rd-seeded HU women's tennis team disposed of 6th-seeded Grace College 7-2 Tuesday afternoon at Klopfenstein Courts in quarterfinals of the Crossroads League tournament.

With this win, Coach Ferguson's crew advances to the semifinals of the tourney to face 2nd-seeded Marian University on Thursday at MU Tennis Courts.

It was business as usual for the Foresters as they jumped out to a 2-1 advantage after doubles play and then gave up just one match in singles action to remain in firm control throughout. Of their 13 wins this season, the Foresters have won at least seven of the nine spots in all but one match.

Huntington's record stands at 13-2 on the year.

SINGLES RECAP
#1 - Emily Mast (GrC) def. Constanze Golz (HU) 6-4, 6-3
#2 - Meg Dolde (HU) def. Carrie Copeland (GrC) 6-1, 6-1
#3 - Lanae Singleton (HU) def. Jenna Jackson (GrC) 6-1, 6-3
#4 - Charlotte Seth (HU) def. Molly Fitzpatrick (GrC) 6-3, 6-1
#5 - Lisa Colling (HU) def. Shelby Bankson (GrC) 6-1, 6-2
#6 - Anastasiia Evstifeeva (HU) def. Briana Diehl (GrC) 6-1, 6-0

DOUBLES RECAP
#1 - Mast/Copeland (GrC) def. Golz/Dolde (HU) 8-3
#2 - Singleton/Colling (HU) def. Jackson/Fitzpatrick (GrC) 8-1
#3 - Evstifeeva/Seth (HU) def. Bankson/Diehl (GrC) 8-4

The Huntington University Foresters compete in 17 intercollegiate sports for men and women. In the past decade, Huntington has produced 38 NAIA All-America honors and 274 All-America Scholar Athlete honors. Huntington University is a comprehensive Christian college of the liberal arts offering graduate and undergraduate programs in more than 70 academic concentrations. U.S. News & World Report ranks Huntington among the best colleges in the Midwest.