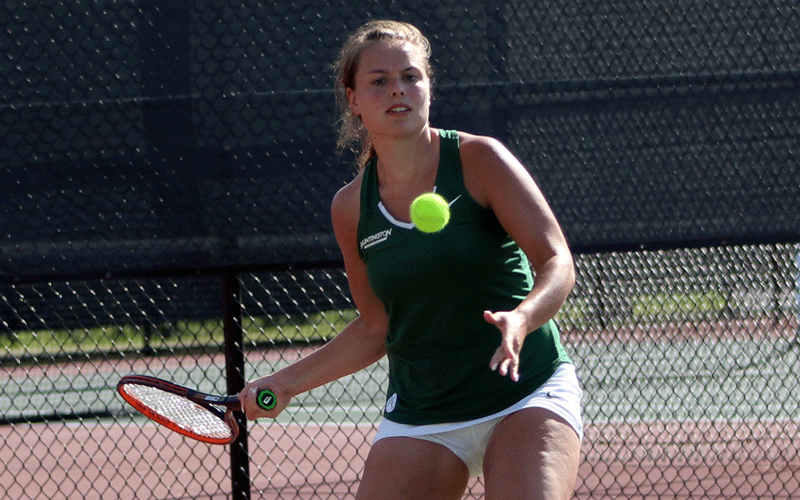 HUNTINGTON, Ind. - The HU women's tennis team made it look easy on opening day by blanking Lawrence Tech Wednesday afternoon at Klopfenstein Courts.

Double plays came and went without issue as the Foresters gave up just four games at the three spots before cruising through singles for the 9-0 win. Three rookies in Lanae Singleton, Charlotte Seth and Lisa Colling earned a spot in Coach Ferguson's top six along with senior Constanze Golz, sophomore Meg Dolde and junior Anastasiia Evstifeeva.

The Foresters jump into conference play on August 30 by hosting Marian University. Huntington finished 3rd in league play last year and posted ten wins against six losses.

SINGLES RECAP
#1 - Constanze Golz (HU) def. Sabrina Mateos (LT) 3-6, 6-3 (10-3)
#2 - Meg Dolde (HU) def. Anusha Varudonai (LT) 0-6, 6-3, 6-3
#3 - Lanae Singleton (HU) def. Samantha Kohn (LT) 6-3, 6-1
#4 - Charlotte Seth (HU) def. Carolyn McCullen (LT) 6-2, 6-1
#5 - Anastasiia Evstifeeva (HU) def. Maria Alvarez (LT) 6-4, 7-5
#6 - Lisa Colling (HU) def. Sarah Burgess (LT) 6-1, 6-1

DOUBLES RECAP
#1 - Golz/Dolde (HU) def. Mateos/Varudonai (LT) 8-1
#2 - Singleton/Colling (HU) def. McCullen/Kohn (LT) 8-2
#3 - Evstifeeva/Seth (HU) def. Alvarez/Burgess (LT) 8-1

The Huntington University Foresters compete in 17 intercollegiate sports for men and women. In the past decade, Huntington has produced 38 NAIA All-America honors and 274 All-America Scholar Athlete honors. Huntington University is a comprehensive Christian college of the liberal arts offering graduate and undergraduate programs in more than 70 academic concentrations. U.S. News & World Report ranks Huntington among the best colleges in the Midwest.