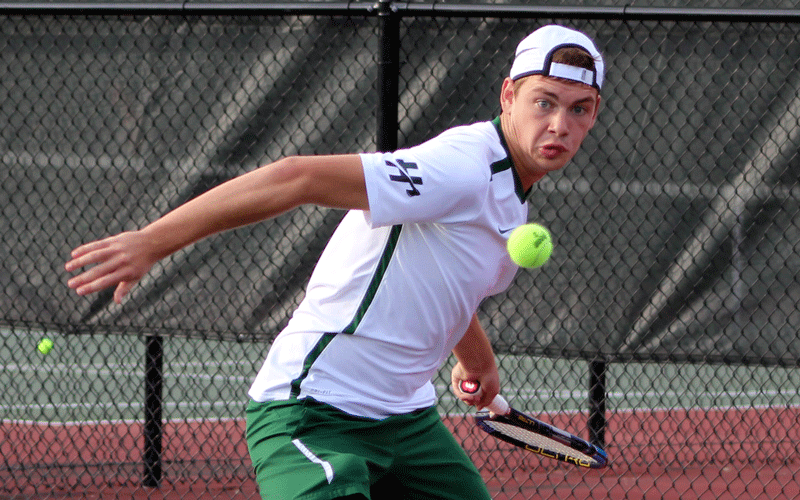 HUNTINGTON, Ind. – The No. 3 HU men's tennis team cruised to a 7-2 win over No. 6 Spring Arbor University (3-6) Tuesday afternoon at Klopfenstein Courts in quarterfinal action of the Crossroads League Tournament.

The Foresters improve to 7-5 on the year and advance to the semifinals of the tourney where they will face No. 2 Indiana Wesleyan at Sutter Tennis Center on Thursday.

Today's win marks HU's third straight which includes a 6-3 decision over SAU a week ago.

Revenge came at No. 1 doubles where Ignacio Poncio and Mariano Echevarria teamed up to hand Nick Romano and Vincent McShane an 8-6 loss. The last time these two pairs met, the Cougar duo outlasted HU 9-7.

Romano returned the favor in singles action by getting the best of Poncio in a three-set thriller, 2-6, 6-4, 7-6 (9-7) which avenged a 6-2, 6-4 loss to Poncio last week at the No. 1 spot.

SINGLES RECAP
No. 1 – Nick Romano (SAU) def. Ignacio Poncio (HU) 2-6, 6-4, 7-6 (9-7)
No. 2 – Rodrigo Manzo (HU) def. Alex Reinbold (SAU) 6-3, 6-3
No. 3 – Giovanni Martinez (HU) def. Vincent McShane (SAU) 6-1, 6-2
No. 4 – Dawid Baranowski (HU) def. Jonah Engle (SAU) 6-2, 6-0
No. 5 – Luke Buttermore (HU) def. Jacob Byrd (SAU) 4-6, 6-3, 6-3
No. 6 – Mariano Echevarria (HU) def. Sam Head (SAU) 6-0, 7-6 (7-4)

DOUBLES RECAP
No. 1 – Poncio/Echevarria (HU) def. Romano/McShane (SAU) 8-6
No. 2 – Manzo/Martinez (HU) def. Byrd/Engle (SAU) 8-2
No. 3 – Reinbold/Josh Scott (SAU) def. Baranowski/Jacob Shelton (HU) 9-8 (7-4)

The Huntington University Foresters compete in 17 intercollegiate sports for men and women. In the past decade, Huntington has produced 38 NAIA All-America honors and 254 All-America Scholar Athlete honors. Huntington University is a comprehensive Christian college of the liberal arts offering graduate and undergraduate programs in more than 70 academic concentrations. U.S. News & World Report ranks Huntington among the best colleges in the Midwest.