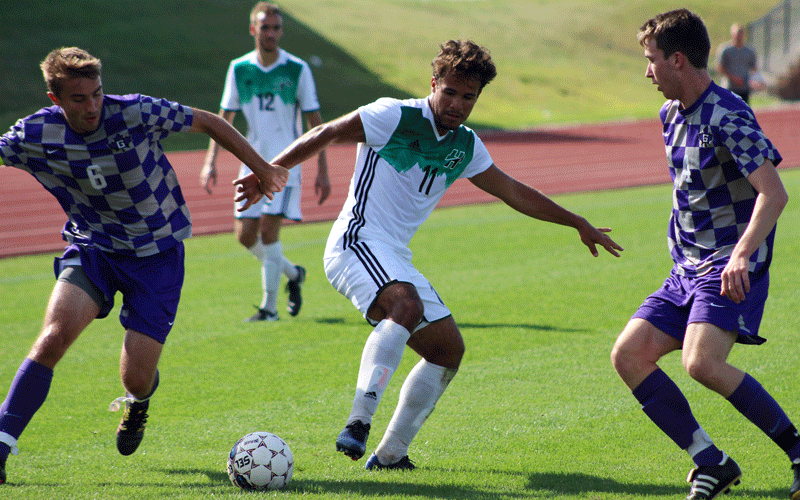 HUNTINGTON, Ind. - Homecoming fans got their money's worth Saturday afternoon at King Stadium as the HU men's soccer team went to double OT against Goshen College that finished in a 1-1 draw. The tie is Huntington's fourth of year as the move to 5-2-4 overall, 1-0-2 in league play.

Just three games into the conference portion of their season, Coach Lawson's crew is sitting in fourth.

It was a proverbial tale of two halves for the hosts. "I was extremely excited about what we were able to create offensively in the first half," said Coach Lawson. "But, unfortunately, we weren't able to adjust to Goshen's tweaks at halftime. Credit Goshen - they're a strong team."

Matheus Louzada scored HU's goal 15 minutes after kick-off when Luke Unger found him in behind Goshen's defense for a 1-0 tilt. It was a lead that stood through halftime as the Foresters controlled the opening 45 minutes, posting seven shots to GC's three.

While HU got off another seven shots in the second half, the Maple Leafs took control, firing nine shots which included their equalizer in the 69th minute. It proved to be the game's final score as neither team, each logging three shots in the extra periods, could find back netting again.

Huntington finished with seven shots on frame to Goshen's six. The Foresters also won the corner kick battle 5-3.

"I am very proud of the boys for their grit and their 'bend don't break' mentality," said Lawson. "The bottom line is - we got a valuable point today."

Next up for the Foresters is a trip to Spring Arbor Wednesday to face the 19-ranked Cougars under the lights at 7:00 p.m.

The Huntington University Foresters compete in 17 intercollegiate sports for men and women. In the past decade, Huntington has produced 38 NAIA All-America honors and 274 All-America Scholar Athlete honors. Huntington University is a comprehensive Christian college of the liberal arts offering graduate and undergraduate programs in more than 70 academic concentrations. U.S. News & World Report ranks Huntington among the best colleges in the Midwest.