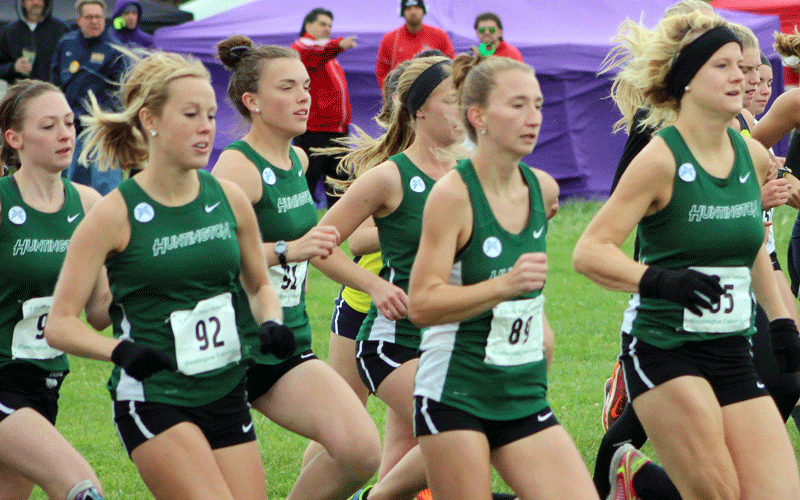 HUNTINGTON, Ind. - The Huntington cross country teams hosted their annual E. DeWitt Baker Invitational as part of the homecoming festivities where the women claimed 3rd out of nine teams and the men finished 5th out of ten teams.

Junior Hannah Moore paced the HU women by running a 19:40 to finish 6th out of 83 runners.

Less than 90 seconds separated Huntington's top five runners with Aspen Dirr clocking in next for the Foresters in 20:30 to finish 16th. Krista Wood posted a 20:34 to cross the line four runners later. Christine Sparks (20:58) and Marie Ditzler (21:08) rounded out HU's scoring by claiming 20th and 26th respectively.

Other Forester runners included Cassidy Johnson (40th, 21:40) and Rachael Smelser (59th, 22:59).

Among the six Crossroads League teams participating in Saturday's invitational, the Foresters finished second only to Marian.

Siena Heights claimed the women's 5K with 26 points followed by Marian (56), HU (97), Grace (109), Davenport (128), Bethel (149), Saint Francis (162), Purdue Calumet (214) and Goshen (228).

Among a field of 89 runners, senior Tyler Herber finished 5th overall in 26:54 in the men's 8K. Austin Presnell was next for HU at 27:41 for 19th place. Only four seconds separated the next two Foresters with Kevin Moser (28:08) and Zach McIntyre (28:12) finishing 27th and 30th respectively. Codi Wiersema clocked in next for HU in 28:44 good for 44th place.

Other Huntington runners included Stephen Kays (51st, 28:57), Daniel Perry (54th, 29:02) and CJ Robertson (60th, 29:19).

Marian ran away with the men's title with 37 points followed by Siena Heights (101), Davenport (105), Goshen (115), HU (117), Wabash (156), Purdue Calumet (158), Bethel (193), Grace (221) and IU South Bend (227).

The Huntington University Foresters compete in 17 intercollegiate sports for men and women. In the past decade, Huntington has produced 39 NAIA All-America honors and 234 All-America Scholar Athlete honors. Huntington University is a comprehensive Christian college of the liberal arts offering graduate and undergraduate programs in more than 70 academic concentrations. U.S. News & World Report ranks Huntington among the best colleges in the Midwest.