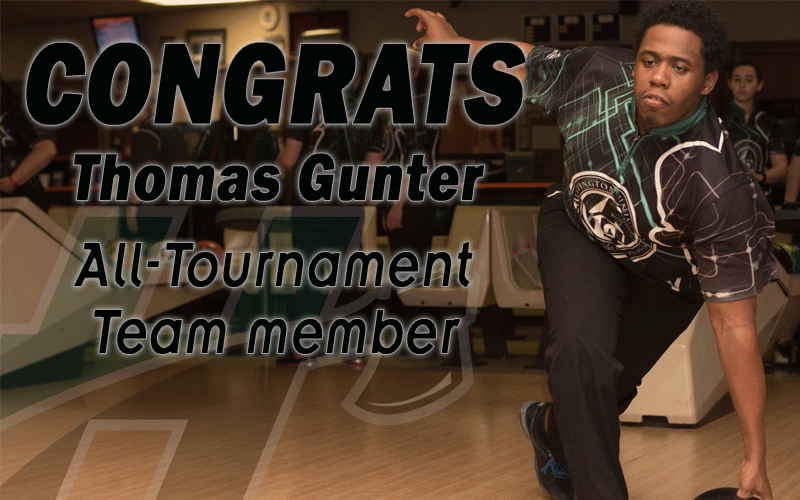 LEXINGTON, Ky. - The Huntington University men's bowling team traveled to Lexington, KY for the NAIA Invitational Team Championships to compete for a national championship. They entered the tourney as the #18-seed among the field of twenty teams but far out-bowled their ranking to finish in the Elite Eight.

"We have been working all season to get ready for this tournament and the guys were definitely ready," said Head Coach Mike Shockey. "Saturday was the best I've seen the guys the bowl as a team all season and it was special to watch the guys fight and grind their way through the matches."

The tournament started with 24 Baker games to determine seeding for the double elimination match play format. HU struggled during the qualifying session, earning a 17th-seed for match play with a total pin fall of 4,365 for a 181 per game average.

Huntington faced No. 16 Hastings College in the first round that extended to a fifth game with the Foresters edging past the Broncos 3-2 (161-138, 126-157, 174-189, 253-146, and 195-145). The win sent HU into the next round where they faced top-seeded St. Ambrose. The match went all five games with Huntington coming up short 3.5-1.5 (177-177, 171-168, 147-166, 175-189, and 181-226).

But HU came back with a vengeance to knock off the #1 team in the country in Robert Morris- Illinois and needed just four games to win the match 3-1 (179-146, 162-189, 171-169, and 193-170). Up against #7 Calumet College of St. Joseph in the round of eight, the Foresters narrowly missed pulling off another upset over a powerhouse bowling program but came up just short 3-2 (204-169, 194-225, 221-166, 203-246, and 189-208).

Freshman Thomas Gunter was honored at the end of the tournament by being named to the All-Tournament Team as voted on opposing coaches in each match. Gunter is the first HU bowler to earn this honor at the NAIA Invitational Team Championships.

"Thomas bowled really well all weekend long and was most certainly deserving of this award," said Shockey. "Thomas had coaches, players, tournament staff and fans all complimenting him for how well he bowled and made the crucial shots when we needed them."

The NAIA also honored several Foresters bowlers as Academic All-Americans. Congratulations to Shelby Price, Brianna Fish, Heidi Tucker, Joe Miller, Daniel Miller and Derek Beckler.

The Huntington University Foresters compete in 17 intercollegiate sports for men and women. In the past decade, Huntington has produced 38 NAIA All-America honors and 254 All-America Scholar Athlete honors. Huntington University is a comprehensive Christian college of the liberal arts offering graduate and undergraduate programs in more than 70 academic concentrations. U.S. News & World Report ranks Huntington among the best colleges in the Midwest.