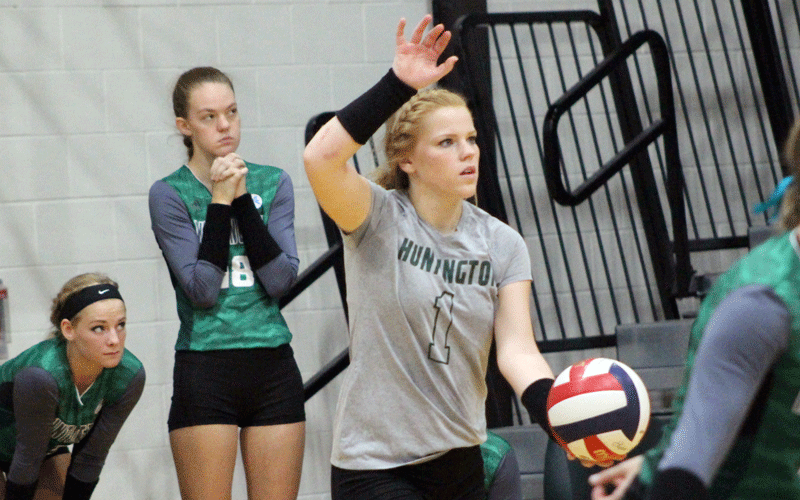 HUNTINGTON, Ind. – Playing inspired volleyball, the Foresters upended Marian University (9-5, 2-2) in four sets, 25-23, 21-25, 25-14, 25-23, to snap a six-game skid and even up their overall record at 6-6 and improve to 2-3 in league play.

Huntington struggled out of the gate, playing catchup most of the first set before finally taking a permanent lead at 23-22 after being down 20-16. The advantage came in the middle of 9-3 run and gave the Foresters an undeniable energy that set the tone for the rest of the night.

"I'm just so pleased with the mental toughness and togetherness we maintained tonight," said Coach Kyle Shondell. "Marian is, without a doubt, one of the toughest and most talented teams in our league and we battled for every single point."

Audrey Mallers had a monster night for the Foresters. The 5-9 senior took control of HU's offense with a career-best 18 kills. Josie Beaver and Danielle Gurwell also posted some big numbers by finishing with nine kills apiece.

"For the rest of the world, this served as Audrey's coming out party; we've know she could carry us and it just took a battle like this to bring that out in her," said Shondell. "Josie had been in a bit of a rut, but similar to Audrey it just took a challenge like tonight for her to break through a bit."

Gurwell was just as impressive at the net defensively to claim 3.5 of her team's nine blocks. Defending the backcourt was a team effort with Breanna Levings and Kate Cobb collecting 14 digs each while Emily Hubby (13), Mallers (12) and Mikayla Carpenter (11) each finished in double digits as well. Cobb also tallied two aces.

In addition to their defensive prowess, Levings and Hubby orchestrated the offense by dishing out 18 and 16 assists respectively.

The Foresters hit the road this weekend to face Saint Francis on Friday at 7:00 p.m. and Spring Arbor on Saturday at 3:00 p.m.

The Huntington University Foresters compete in 17 intercollegiate sports for men and women. In the past decade, Huntington has produced 38 NAIA All-America honors and 254 All-America Scholar Athlete honors. Huntington University is a comprehensive Christian college of the liberal arts offering graduate and undergraduate programs in more than 70 academic concentrations. U.S. News & World Report ranks Huntington among the best colleges in the Midwest.