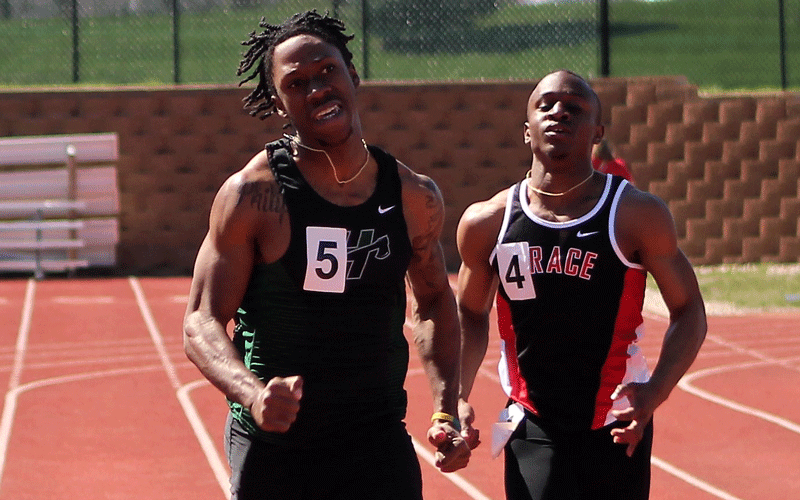 HUNTINGTON, Ind. – Hosting their own meet, the Huntington University Invitational, the Forester men's track team took second with 126 points while the HU women finished third with 118 points.

Nicole Pennington sprinted her way to a pair of first place finishes. She won the 100 meters in a personal-best time of 12.53 and then took first in the 200 meters in 26.53.

Jean Donaldson was another double winner for HU. She topped the field in javelin (115-07.00) and the hammer (140-11.75). Michelle Kelsey also had a solid outing in field events by earning points in three different events which included first in high jump (4-11.25), second in triple jump (31-10.50) and third in long jump (15-04.00).

Paige Coolman earned two fourth place finishes by posting a mark of 117-08.25 in discus and a PR 111-11.00 in javelin. Two other athletes earned points in more than one event - Bianca Tisdale in the 800 meters (3rd, 2:39.75) and the 1500 meters (6th, 5:23.66) and Kelsey Graber in the same events finishing 5th in 2:43.81 (800 meters) and 9th in 5:33.34 (1500 meters).

Other point-getters for Huntington included Samantha McCoy in the 200 meters (2nd, 26.56), Rachael Smelser in the 800 meters (6th, 2:44.29), Aspen Dirr in the 1500 meters (4th, 5:16.28), Rosie Ditzler in the 3000 meters (7th, 12:09.28), the 4x400 meter relay team (2nd, 4:15.82), Holly Holton in discus (8th, 110-00.25) and Brooke Saylor in javelin (6th, 106-03.25).

Manchester claimed the women's title with 177 points followed by Adrian (157), HU (118), Defiance (44), Grace (42) and Saint Francis (36).

Three Foresters claimed a first place finish for the men. Avniel Barrow won the 100 meters by crossing the line in 11.07. He followed up that performance by taking second in the 200 meters in 22.95.

Brooks Gerke's leap of 13-05.50 in pole vault earned him top honors while Austin Willey earned ten points for HU in the 3000 meter steeplechase by clocking in at 10:22.68.

Bradey Gerke had a pair of top three finishes, recording second place in the 400 meters (52.69) and third place in triple jump (38-11.75).

Adam Woods claimed points in three different events including javelin (3rd, 134-09.75), the 110 meter hurdles (4th, 18.20) and long jump (6th, 18-07.75) as did Zach Williams. Williams earned points in shot put (6th, 40-08.25), discus (5th, 125-05.25) and hammer (10th, 117-10.25).

Foresters earning points in two events included Codi Wiersema in the 1500 meters (5th, 4:10.93) and the 3000 meters (10th, 9:48.10), CJ Robertson in the 400 meter hurdles (4th, 59.27) and javelin (5th, 133-00.50) and Wyatt Jones in the 200 meters (8th, 24.31) and long jump (7th, 17-08.25).

Other point-getters for HU included Michael Bowman in the 800 meters (4th, 2:03.04), the 4x100 meter relay team (1st, 43.36), the 4x400 meter relay A team (3rd, 3:35.05), the 4x440 meter relay B team (4th, 3:53.06) and Luke Fillers in pole vault (4th, 11-11.75).

Grace won the men's title with 203 points followed by HU (126), Adrian (107), Manchester (98), Defiance (51) and Saint Francis (48).

The Foresters are off until April 21-22 when they compete in the Indiana Little State Championships hosted by Taylor University.

The Huntington University Foresters compete in 17 intercollegiate sports for men and women. In the past decade, Huntington has produced 38 NAIA All-America honors and 254 All-America Scholar Athlete honors. Huntington University is a comprehensive Christian college of the liberal arts offering graduate and undergraduate programs in more than 70 academic concentrations. U.S. News & World Report ranks Huntington among the best colleges in the Midwest.