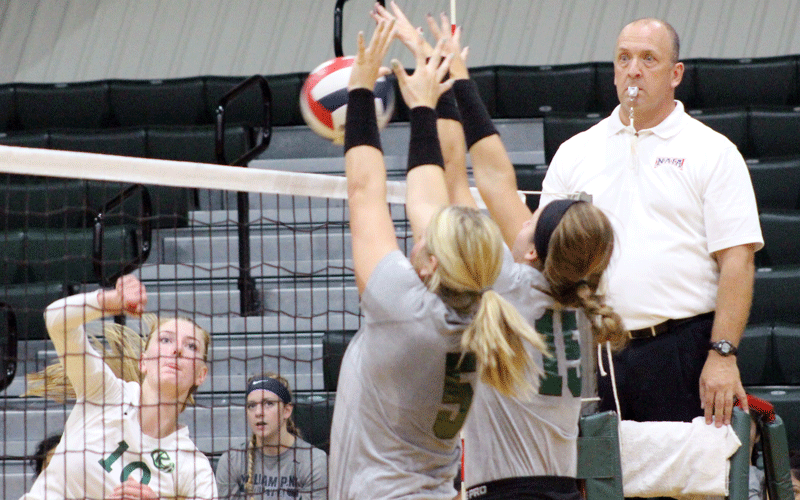 HUNTINGTON, Ind. – The HU volleyball team added two more wins over the weekend to improve to 3-0 on the season as they took care of business 3-2 against Roosevelt University (IL) before notching a 3-0 win, 25-18, 25-20, 25-14, over Robert Morris University (IL).

The first match was a rollercoaster of emotion for both teams. It looked like the Foresters would cruise to an easy victory after logging a 25-11 win in the opening set against the Lakers but things unraveled for Shondell's squad in the next two sets.

Roosevelt came out firing on all cylinders to hand their hosts a 25-14 loss and then outlasted HU in a 29-27 third set nail-biter. But Huntington made it clear they may be down but never out. They seized back momentum to close out the match with a pair of easy wins, 25-14, 15-6, to wrap up the W.

IUSB sophomore transfer Tailor Schultheis proved to be HU's heart and soul offensively by tallying 12 kills and a .292 hitting percentage. Josie Beaver and Audrey Mallers also posted big numbers by finishing with 11 and ten kills respectively. Emily Hubby handled the bulk of her team's assists with 27. The junior setter also finished with a game-high three aces.

Defensively, Kate Cobb took charge of the backcourt to collect 17 digs while Mallers added ten. Danielle Gurwell and Ashli Drewes led the charge at the net with four and 3.5 blocks respectively.

In the last match of the day, the Foresters controlled play from the get-go against Robert Morris by leading for all but one point of the three-set contest.

Just as in the morning game, Schultheis spearheaded HU's offense with a game-best 12 kills as she helped guide her team to their third win in less than 24 hours. Beaver and Gurwell chipped in seven and six kills respectively while Hubby dished out 19 assists.

"Tailor continues to be a charge of energy and offense for us; not many players can have this kind of impact this quickly," said Shondell.

The tandem of Mallers (17) and Cobb (12) teamed up to handle the lion-share of digs against an Eagle squad that was limited to just 25 kills and a .000 attack percentage.

"We looked better defensively today," noted Shondell. "Our blockers started to see things develop more and our backcourt was really steady.

"You can't ask for a better start and for that we're ecstatic, but we've got a challenging road ahead of us and we need to stay humble and keep working to improve."

The Foresters (3-0) now have over a week's break before jumping into conference play on August 31 when they host Taylor University at 7:00 p.m.

The Huntington University Foresters compete in 17 intercollegiate sports for men and women. In the past decade, Huntington has produced 38 NAIA All-America honors and 254 All-America Scholar Athlete honors. Huntington University is a comprehensive Christian college of the liberal arts offering graduate and undergraduate programs in more than 70 academic concentrations. U.S. News & World Report ranks Huntington among the best colleges in the Midwest.