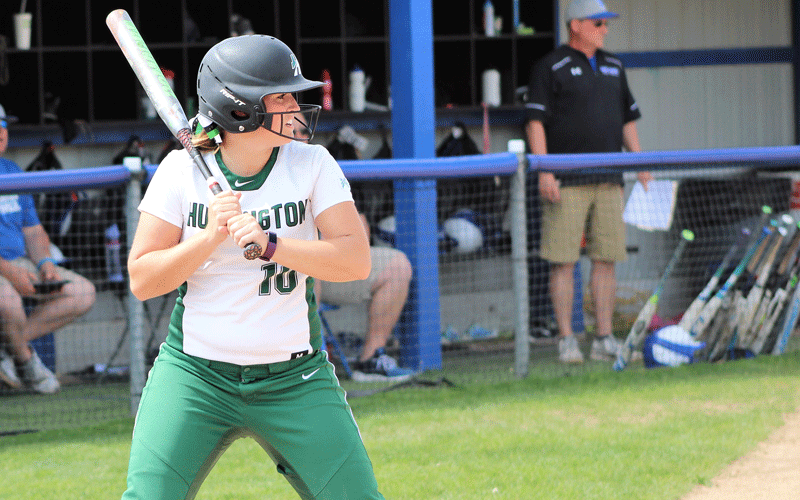 FORT WAYNE, Ind. – The Forester softball team spent their Tuesday afternoon picking up a pair of road wins over the University of Saint Francis, 4-3, 6-0, to extend their win streak to five. HU, currently fourth in the league standings, wraps up their regular season series against USF (17-23, 14-20) with an unblemished 4-0 record.

Game one didn't come easy for the visitors as they found themselves in a 2-0 hole through the first three frames before mounting an impressive comeback for a 4-2 advantage heading into the seventh where they then had to ward off the Cougars to escape with the one-run victory.

HU's comeback started in the fourth when Sabrina Bethel ripped a double into left to drive in Ashley Brown who had opened up the frame with a walk to chop USF's lead in half at 2-1.

The Foresters then picked back up in the fifth, with a little help from the Cougars, to plate their final three runs to climb on top 4-2. Natalie McGuire represented the tying run when she reached first on a fielding error. Casey Lehman sent her to third with a double up the middle and then both scored when USF pitcher Heather Zengler threw one into the dirt to first after fielding Audra Klopfenstein's dribbler to the mound.

Klopfenstein would go on to score the winning run on Ashley Brown's RBI-single into right.

Huntington threatened in their last two at bats, leaving a combined five runners stranded, but couldn't convert but the same proved true for the hosts. USF's first golden opportunity came in the bottom of the fifth when they placed a runner on second with no outs but came up empty compliments of McGuire's defense as all three outs came by way of her glove.

USF left two batters stranded in the sixth and then scored in the seventh before loading up the bases with two outs. It had all the makings of a heroic USF finish but instead it was Lairen Miller's heroic finish as she struck out the final batter to notch her 14th win of the year.

Miller gave up 11 hits, three runs and three walks while striking out one for the complete-game victory.

Huntington also finished with 11 hits with Bethel finishing a perfect 4-for-4 and an RBI. Casey Lehman added three hits.

The nightcap was much less dramatic as Camille Furrow tossed a six-hit shutout to deny the Cougars any offense while her teammates provided more than enough power at the plate to cruise to the win.

After two quiet innings, Huntington got their sticks going to score in all but one of the final five frames. Lehman knocked in two of HU's first three runs, the first an RBI-double in the third and the second an RBI-bunt in the fifth.

McGuire also doubled in a run, as did Karley Blankenship and Marty Harris. Joelle Beals rounded out HU's run-scoring base pokes with a single into center in the top of the seventh.

Blankenship finished with three hits, all doubles, while Lehman and Beals posted two hits apiece.

Furrow's impressive outing in the circle included scattering just six hits and two walks while striking out seven for her 11th win of the season.

The Foresters (25-16-1, 20-12) host Bethel College on Friday in their final home doubleheader with opening pitch at 3:00 p.m.

The Huntington University Foresters compete in 17 intercollegiate sports for men and women. In the past decade, Huntington has produced 38 NAIA All-America honors and 254 All-America Scholar Athlete honors. Huntington University is a comprehensive Christian college of the liberal arts offering graduate and undergraduate programs in more than 70 academic concentrations. U.S. News & World Report ranks Huntington among the best colleges in the Midwest.