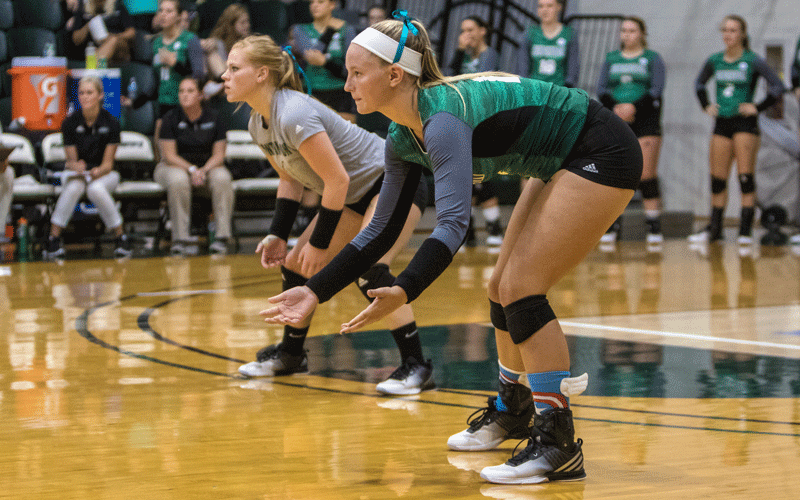 HUNTINGTON, Ind. – The HU volleyball team remained perfect on the season at 4-0 Wednesday night with a 3-1 win over Taylor University (3-2, 0-1) on opening night of league play. The Foresters have now logged two straight wins over the Trojans. Shondell's crew swept TU 3-0 in first round action of last year's conference tourney.

Huntington's resilient, never-say-die attitude was never so obvious as they dropped the first set 25-18 before bouncing back to claim the next three, 25-23, 25-19, 25-22, with the fourth set proving to be the most dramatic. Down by five on three different occasions with the last at 16-11, the Foresters went on a 9-2 scoring spree to take a permanent lead of 20-18 on their way to the win.

The night included 37 ties and 12 lead changes with the numbers backing up just how evenly matched these two teams were. HU finished with 41 kills to Taylor's 39. HU also bettered their visitors in blocks 11-6.

From behind the line, Huntington committed just four serving errors while their counterparts tallied seven but Taylor got the best of HU in aces 6-1.

Josie Beaver and Danielle Gurwell's presence at the net was notable both offensively and defensively. Beaver collected 11 kills and three blocks while Gurwell posted ten kills and two blocks. Tailor Schultheis added seven kills while freshman Paige Eakright made her debut to do a little bit of everything for the Foresters including four kills, five digs and 2.5 blocks.

Emily Hubby and Breanna Levings each recorded 16 assists while Kate Cobb and Audrey Mallers covered the backcourt with 19 and 18 digs respectively.

"It's always great to win as a team and that's what we did tonight," said Shondell. "It wasn't exactly an offensive night for anybody, but we found ways to score when we needed to.

"We had to scrap, but we managed to hold their hitters at bay for most of the night; our backcourt really picked up the intensity in the fourth set."

The Foresters (4-0, 1-0) have only given up three sets so far this season and are one of only two league teams that remain undefeated on the year. Next up for HU is the UNOH Silver Spike Tournament on September 2-3.

Photo provided by Judd Johnson, Leverage Photography

The Huntington University Foresters compete in 17 intercollegiate sports for men and women. In the past decade, Huntington has produced 38 NAIA All-America honors and 254 All-America Scholar Athlete honors. Huntington University is a comprehensive Christian college of the liberal arts offering graduate and undergraduate programs in more than 70 academic concentrations. U.S. News & World Report ranks Huntington among the best colleges in the Midwest.