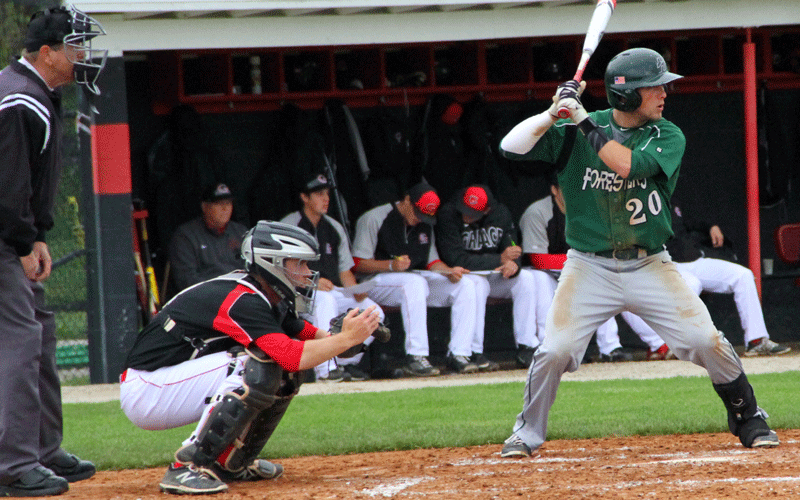 WINONA LAKE, Ind. – The HU baseball team recorded its second league sweep of the season Monday afternoon against Grace College (19-27, 6-18) at Miller Field to improve to 18-25 overall, 13-9 in conference play.

Game one was an offensive highlight reel for the Foresters as they pounded out a season-high 21 hits on their way to a 16-5 blowout, their largest margin of victory of the year.

Facing a 4-2 deficit after two, Huntington finally took their first lead of the day in the fourth by plating five runs to Grace's one for a 7-5 tilt. It was an impressive at bat for the visitors. After a pair of singles and walk to load the bases, Jamar Weaver and Shea Beauchamp unloaded for back-to-back doubles to drive in two runs apiece. A wild pitch and one out later, Dylan Henricks tallied a sacrifice fly to account for the final run of the frame.

While the fourth proved productive for Coach Frame and crew, it was only a glimpse of what was to come as two innings later, HU unleashed for nine runs to run away with the contest.

The sixth inning showcase saw HU sift through three pitchers and slug out nine hits highlighted by a pair of run-scoring base pokes by DJ Moore. The Foresters stepped up to the plate 14 times with six hits being of the run-scoring variety. When all was said and done, Moore, Kyle Selvey, Mike Crowley, Brock Gower and Adam Roser each drove in at least one run in the frame.

Brock Gower was a perfect 5-for-5 at the plate, scored twice and drove in a run. In addition to Adam Roser's RBI-single in the sixth, the rookie third baseman pounded out two additional hits, including a two-run double in the second, to finish with three hits and three RBI. Moore and Weaver added two hits and three RBI apiece in a game that saw eight different Foresters log multiple hits.

Pitching for HU was done by committee with starting hurler Tyson Dietrich picking up the win. He tossed the first three frames and gave up five runs, four hits and three walks while striking out one before Caleb Landrum and Dax McLochlin teamed up on the mound to pitch four innings of scoreless relief as each shooter surrendered just one hit.

Just like the opener, the Foresters found themselves in an early hole in the nightcap, this time a 2-1 disadvantage after one, before rallying back late in the game for a 5-2 win.

After giving up two runs, only one of which was earned, a hit and two walks in the first frame, Tanner Wyse brought the Lancer offense to a screeching halt by giving up just three hits and a walk while striking out four over the final six innings to register the complete-game win.

At the plate, Dalton Combs' RBI-groundout accounted for HU's first run while Moore knocked in the tying run in the fourth on a run-scoring infield single. The go ahead run came two frames later when Allen Shannon, pinch running for Beauchamp who had singled to a gap in left-center, advanced to second on a wild pitch and made his way home by way of a misplayed grounder.

The Foresters would go on to add a pair of insurance runs compliments of Moore, the first on his RBI-fielder's choice in the sixth and the second in the seventh when he delivered an RBI-single with bases loaded.

HU outhit their hosts 12-4. Moore led the way with a pair of base pokes and three RBI. Combs finished with two hits, scored twice and drove in two runs while Beauchamp went 3-for-4 at the plate.

Huntington returns to Forest Glen on Tuesday for their final regular season doubleheader against Taylor. Opening pitch of game one is slated for 4:30 p.m.

The Huntington University Foresters compete in 17 intercollegiate sports for men and women. In the past decade, Huntington has produced 39 NAIA All-America honors and 234 All-America Scholar Athlete honors. Huntington University is a comprehensive Christian college of the liberal arts offering graduate and undergraduate programs in more than 70 academic concentrations. U.S. News & World Report ranks Huntington among the best colleges in the Midwest.