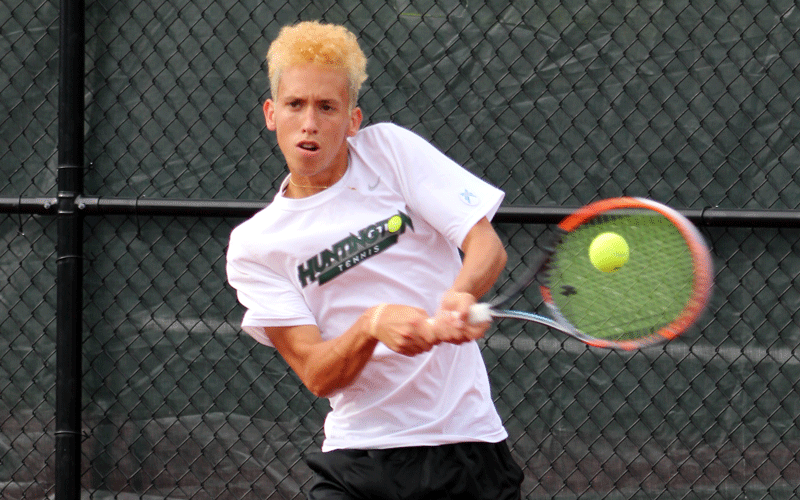 HUNTINGTON, Ind. – The HU men's tennis team had a strong showing Thursday afternoon against Goshen College to enjoy a convincing 8-1 win over the Maple Leafs (4-6, 3-4).

With three league matches left, the Foresters are currently in a three-way tie for fourth with Spring Arbor and Grace. Huntington will face these two teams next week, traveling to SAU on Tuesday and hosting Grace on Thursday.

Recent partner changes in doubles action paid off for Coach Eckert's crew as they started the day with three convincing wins. While singles play proved closer, HU came out on the positive side of three tiebreakers on their way to piling on five more wins for the lopsided decision.

The Foresters are currently 3-4 overall, 3-2 in league play. They are back in action on Saturday to host Bethel at 11:00 a.m. before taking on Aquinas at 3:00 p.m.

SINGLES RECAP
No. 1 – Ignacio Poncio (HU) def. Aritha Weerasinghe (GC) 6-1, 7-6 (4)
No. 2 – Rodrigo Manzo (HU) def. Eric Zuercher (GC) 6-3, 7-5
No. 3 – Kartikeya Sharma (GC) def. Giovanni Martinez (HU) 6-1, 6-0
No. 4 – Dawid Baranowski (HU) def. Juan Miguel Ciudad (GC) 7-6 (4), 6-3
No. 5 – Luke Buttermore (HU) def. Eric Cender (GC) 2-6, 6-3, (10-5)
No. 6 – Mariano Echevarria (HU) def. Evan Beck (GC) 6-1, 6-2

DOUBLES RECAP
No. 1 – Poncio/Echevarria (HU) def. Zuercher/Sharma (GC) 8-2
No. 2 – Manzo/Martinez (HU) def. Weerasinghe/Luke Rush (GC) 8-6
No. 3 – Baranowski/Buttermore (HU) def. Cender/Ciudad (GC) 8-2

The Huntington University Foresters compete in 17 intercollegiate sports for men and women. In the past decade, Huntington has produced 38 NAIA All-America honors and 254 All-America Scholar Athlete honors. Huntington University is a comprehensive Christian college of the liberal arts offering graduate and undergraduate programs in more than 70 academic concentrations. U.S. News & World Report ranks Huntington among the best colleges in the Midwest.