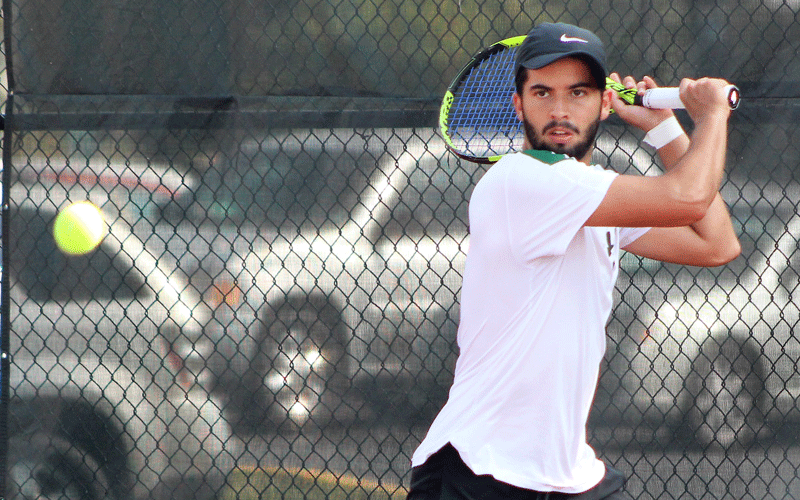 HUNTINGTON, Ind. - The Huntington men's tennis team moved into a three-way tie for second place in the league standings with a convincing 8-1 win over Spring Arbor University Tuesday afternoon at Klopfenstein Courts. They now claim a 6-2 record in league play, a 7-3 record overall.

With one conference match remaining, IWU is undefeated in league play at 8-0 while HU's tie is with two teams that will battle it out on Saturday in Marian and Spring Arbor.

A win over Goshen on Saturday would ensure the Foresters at least a third place finish in the final standings. Coach Eckert's squad could finish as high as second should SAU beat Marian and HU beat the Maple Leafs.

The Foresters wasted little time securing today's win as they swept doubles while Brody Worl was busy picking up a fourth point at No. 6 singles for an early lead that was never really challenged.

Huntington hosts Purdue Northwest on Thursday at 4:00 p.m. before they face Goshen on Saturday.

SINGLES RECAP
#1 - Ignacio Poncio (HU) def. Nick Romano (SAU) 7-5, 3-6 (10-4)
#2 - Rodrigo Manzo (HU) def. Alex Reinbold (SAU) 6-1, 6-4
#3 - Giovanni Martinez (HU) def. Ryan MacLean (SAU) 7-6 (7-4), 6-2
#4 - Jonah Engle (SAU) def. Mariano Echevarria (HU) 6-4, 7-6 (7-3)
#5 - Jacob Shelton (HU) def. Connor Mogle (SAU) 6-3, 6-4
#6 - Brody Worl (HU) def. Sam Head (SAU) 6-0, 6-4

DOUBLES RECAP
#1 - Poncio/Echevarria (HU) def. Romano/Engle (SAU) 8-4
#2 - Manzo/Martinez (HU) def. Reinbold/MacLean (SAU) 8-6
#3 - Luke Buttermore/Shelton (HU) def. Josh Scott/Thomas Hall (SAU) 8-6

The Huntington University Foresters compete in 17 intercollegiate sports for men and women. In the past decade, Huntington has produced 38 NAIA All-America honors and 274 All-America Scholar Athlete honors. Huntington University is a comprehensive Christian college of the liberal arts offering graduate and undergraduate programs in more than 70 academic concentrations. U.S. News & World Report ranks Huntington among the best colleges in the Midwest.