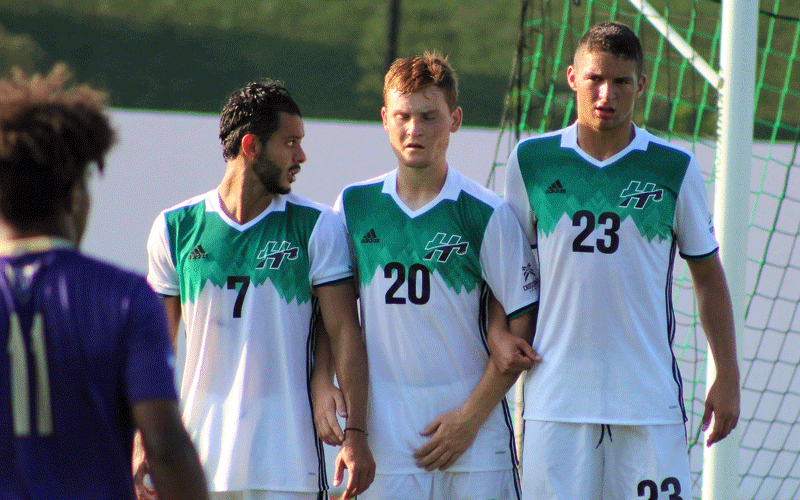 HUNTINGTON, Ind. - The Forester men's soccer team is heading into league play on a high note with a convincing 4-0 win over NCAA Division III Defiance College Wednesday afternoon at King Stadium. The victory is HU's third in its last four outings.

Senior Troy Hester anchored the hosts' defense with another clean sheet, the third of the season. His teammates protected him well, giving up a mere seven shots on the day, only two of which were on frame.

At the other end of the pitch, HU fired off 21 shots, 13 on target. Offense came easy for Coach Lawson's crew, especially in the first half.

Within the opening eight minutes, the scoreboard already read 2-0 with seniors Aaron Harting and Ty Sproat finding back netting to set the tone for the afternoon. Noah Fleming made it 3-0 in the 23rd minute after which another pair of seniors, Hayden Suter and Isaac Jones, teamed up to wrap up all of the day's scoring seven minutes before halftime.

Suter had entered the game just a handful of minutes earlier and put a head on a perfectly placed pass from Jones as the cherry on top of one of HU's most productive halves of the year.

Contributions to the win were widespread as eighteen Foresters got in on the action and for Harting and Jones; it was their first collegiate goal and assist.

Coach Lawson was pleased with the team effort. "I thought the boys put together a dominant performance today.

"We talk about being a team of firsts and starting each match with the right mentality and then sustaining that momentum all the way. Many strong performances from Troy and the backline with the clean sheet, to the center mids controlling tempo and our wingers and center forwards finishing early and often."

The Foresters (4-2-2) have over a week's preparation before launching into league play. They open up with a home contest against Indiana Wesleyan on September 30 at 2:00 p.m.

The Huntington University Foresters compete in 17 intercollegiate sports for men and women. In the past decade, Huntington has produced 38 NAIA All-America honors and 274 All-America Scholar Athlete honors. Huntington University is a comprehensive Christian college of the liberal arts offering graduate and undergraduate programs in more than 70 academic concentrations. U.S. News & World Report ranks Huntington among the best colleges in the Midwest.