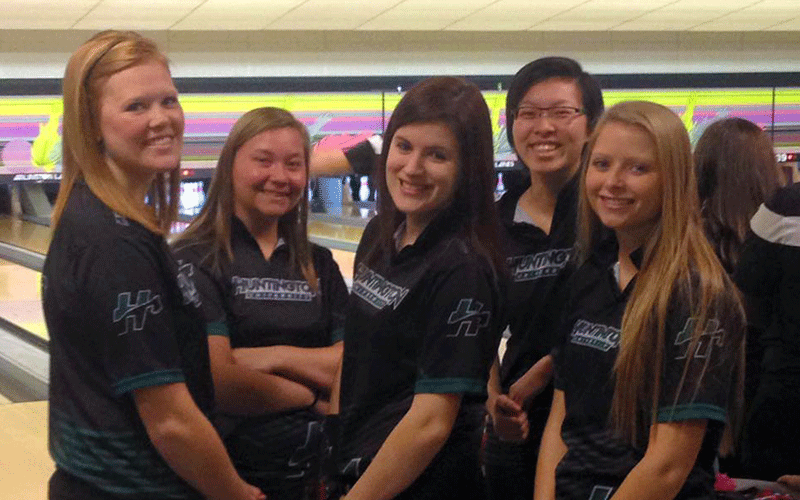 Arlington Heights, Ill. - The Forester women's bowling team ended their season this weekend after going 1-2 in the double elimination Baker round Saturday at the 2015 NAIA Invitational Team National Championships at Arlington Lanes in Arlington Heights, Ill.
Bowling on a very difficult and tight 45 foot oil pattern put down on synthetic lanes that had Guardian film on top for 60 feet in Friday's qualifier, the HU team of Shelby New, Emerald Leong, Ayla Yeiter, Rachel Vogler and Brooke Ewing were 11th after the first 12 Baker games with a 2,065 pin total. Later that day, the Foresters rolled a 2070 over the next 12 games for a 24-game total of 4,135. Their score landed them the 16th seed out of 20 teams for Saturday's matches.

In their first match early Saturday morning, HU got off to a good start by beating Lindenwood Belleville 3-1, rolling 204-166-126-220 to Lindenwood's 156-154-150-167. With this win, Huntington went on to face top seed and #2-ranked Pikeville. The two teams split the first two games with HU rolling 167-194 and Pikeville rolling 256-182. Pikeville went on to win the last two games rolling 195-173 against HU's 173-159 for the 3-1 victory.

The loss sent the Foresters to the consolation bracket where they squared off against two-time defending champion and #7-ranked Webber International. It was a rematch of last year where WIU outlasted HU 3-2. This time around the Warriors came from behind to log a 3-1 win over Coach Bischoff's crew. The Foresters took advantage of Webber's anchor missing the ten pin in the tenth frame of the first game to squeak out the 144-142 win.

While WIU continued to struggle over the next three games, so did the Foresters as they lacked consistency and found themselves on the losing end of the next three games. HU rolled games of 173-147-174 to Webber's 194-200-193 for the loss that knocked them out of the tourney. The Foresters wrapped up the weekend with an overall tourney record of 5-7.

Pikeville, HU's second opponent, went on to defeat Robert Morris of Illinois for the 2015 title.

The Huntington University Foresters compete in 16 intercollegiate sports for men and women. In the past decade, Huntington has produced 38 NAIA All-America honors and 222 All-America Scholar Athlete honors. Huntington University is a comprehensive Christian college of the liberal arts offering graduate and undergraduate programs in more than 70 academic concentrations. U.S.News & World Report ranks Huntington among the best colleges in the Midwest.