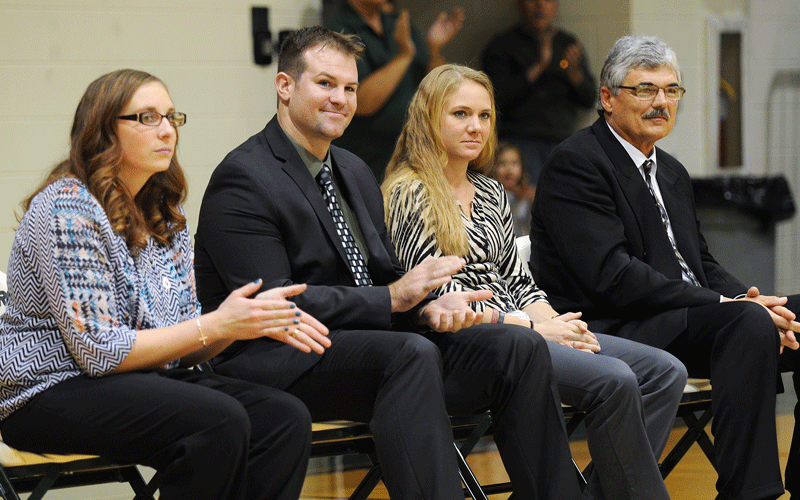 HUNTINGTON, Ind. - On Saturday, November 14, Huntington University inducted four individuals, Doug Carver, Lauren (Ward) Dove, Andrew Drummond and Lauren (Davenport) Johnson, into the Forester Athletic Hall of Fame.

The induction ceremony took place at the Habecker Dining Commons at 11:00 a.m. Inductees were also recognized at halftime of the Huntington men's basketball game later that day.

Doug Carver was honored for his significant contribution to the Huntington University men's basketball program during the years of 1973-74 and 1976-79.

Doug first came to Huntington in 1973 as a rookie where he was quick to establish himself as one of the program's up and coming players. He was an exceptional shooter - many would claim him as the best southpaw scorer in school history. He was best known for his quickness and taking a few hard dribbles and pulling up for a line drive jumper.

After his rookie season, Doug took a few years off before returning to the Huntington hardwood for his second season where he was even stronger and more versatile than before. His ability to take over a game offensively earned him All-Conference honors in each of his final three years in addition to being voted his team's MVP all three seasons.

The 6-3 guard was also a two-time All-District, NCCAA Second Team All-America and NAIA Honorable Mention All-America honoree.

Doug is currently the 16th all-time scorer in HU history with 1,669 points. For his career, he averaged 16.9 points in 99 games.

Doug graduated with a Bachelor of Science degree in Business Administration in May of 1982. He currently resides in Huntington where he retired from the United States Postal Service.

Lauren (Ward) Dove was honored for her significant contribution to the Huntington University softball program during the years of 2005-2009.

A standout pitcher from Eastside High School, Lauren came to Huntington in the fall of 2005 and her impact on the mound was instant.

As a rookie, the Butler (Ind.) native started in 21 games where she faced 539 batters and gave up just 122 hits and 25 base on balls while striking out 162 for an ERA of 1.97. Lauren finished the season with nine wins and gave up a mere 39 earned runs in 138.2 innings pitched.

Lauren added ten more wins to her total as a sophomore. She finished the year with an ERA of 2.27 and gave up 102 hits and 32 walks while tallying 117 strikeouts in 111 innings pitched.

As a junior, Lauren posted an ERA of 1.29, the lowest of her career in green and white. She faced 545 batters and allowed 113 hits while fanning 151 to earn 11 wins on the year. She spent 147 innings in the circle during which she gave up only 27 earned runs.

Lauren saved some of her best for last. As a senior, the Forester ace racked up a career-high 197 strikeouts - a school record that still stands today. She also gave up a career-low 97 hits and issued just 29 walks.

When all was said and done, the three-time All-Conference and All-District honoree finished her career with 41 wins, two saves and a 1.98 ERA. She graduated holding the school record for career strikeouts with 627. She faced 2,030 batters and gave up only 434 hits, 126 walks and 150 earned runs in 529.2 innings pitched. Sher committed just 16 errors during her tenure at HU for a career fielding percentage of 91.4.

Lauren graduated from Huntington University in May of 2009 with a bachelor's degree in Economics and Finance. She resides in her hometown of Butler with her husband Michael and three kids Noah, Garret and Jordan. Lauren currently works for CVS Pharmacy as a Pharmacy Technician.

Andrew Drummond was honored for his significant contribution to the Huntington University baseball program during the years of 2006-2010.

After an outstanding high school career at Huntington North High School, Andrew chose to take his talents across town to continue his athletic prowess as a Forester. His impact was immediate.

As a freshman, Andrew hammered out 25 hits at a clip of .397 to be deemed the Foresters' 2007 individual batting champion. He finished the year with 19 RBI and scored 13 runs to help guide HU to a regular season conference championship and for his efforts received All-Conference and All-District accolades.

The Huntington native added 41 hits and 27 RBI to his career totals as a sophomore on a Forester squad that won the conference tourney and advanced to the NAIA Region VIII championship game.
Andrew came into his own as an upperclassman to become one of the most prolific hitters in program history. In addition to being named his team's individual batting champion both years, he also earned back-to-back All-Conference honors and guided his team to another conference tournament championship as a senior to earn an automatic bid to the NAIA National Tournament.

After registering 68 hits which included seven homeruns, 47 RBI and a .442 batting average as a junior, Andrew posted even more impressive stats during his final campaign. The right-handed slugger pounded out 91 hits, 28 for extra bases, and 62 RBI to go along with a batting average of .464.

For his career, Andrew collected 225 hits which included 21 homeruns and drove in 155 runs. He touched home 122 times and tallied 336 total bases. Over the course of his four years, the Foresters posted 111 wins against 75 losses.

Andrew dominates the Forester record books. He holds six of the program's single season hitting records including most games (53), most at bats (196), most hits (91), most singles (63), most RBI (62) and most bases (139) - all of which he accomplished in his senior season. He also boasts the most RBI in a career with 155 and his .408 career batting average is also the highest four-year average on record.

Andrew graduated from Huntington University in May of 2010 with a Bachelor's degree in Computer Science. He currently serves at the IT manager at Huntington Sheet Metal. He and his wife Courtney, also an HU alum, reside in Roanoke, Ind.

Lauren (Davenport) Johnson was honored for her significant contributions to the Huntington University women's basketball, track and cross country programs during the years of 2005-2009.

After a successful career at Huntington North, Lauren came to Huntington University as a highly touted athlete in several sports. After two relative quiet basketball seasons in green and white, the Huntington native came into her own as an upperclassman to become one of the nation's top point guards. The 5-7 floor general averaged 12.1 points, 4.3 assists, 3.9 rebounds and 3.0 steals per outing over her last two years and for her efforts received NAIA Third Team All-America and All-Conference honors both years.

As a senior, Lauren led the Foresters to the program's second Sweet Sixteen finish at the NAIA National Tournament, a feat that last happened in 1994. She concluded her career with 1,023 points to place her 22nd on HU's all-time scoring list.

A four-year member of Coach Tom King's track team, Lauren made five appearances at the NAIA Outdoor National Track and Field Championships which included a fourth place finish in the 800 meters as a senior which earned her All-America status.

Lauren also left her mark on the Mid-Central Conference where she was crowned the MCC Champion in the 400 meters as a junior. She went on to defend her MCC title in the 400 the following year and also claimed the 400 meter hurdles title to earn All-Conference honors for the second year in a row. She currently holds two Huntington outdoor records which include the 800 meters and the 400 meter hurdles.

After earning her degree, Lauren extended her athletic career by one semester to run cross country for the Foresters in the fall of 2009. She dominated her peers by placing first in four of the six regular season meets. She went on to claim second at the MCC championships to earn All-Conference honors and punch her ticket to the NAIA National Championships where she finished 16th out of 330 runners and claimed yet another All-America honor.

Lauren is the only Forester on record to earn All-America honors in three different sports.

Lauren graduated with a Bachelor of Science degree in Exercise Science in May of 2009. Currently, she is a professional athlete for Nike with her most recent accomplishment occurring this summer when she made it to the semi-finals of the 1500 meters at the World Championships. She and her husband Nick, also an HU alum, reside in Eugene, Oregon.

The Huntington University Foresters compete in 17 intercollegiate sports for men and women. In the past decade, Huntington has produced 39 NAIA All-America honors and 234 All-America Scholar Athlete honors. Huntington University is a comprehensive Christian college of the liberal arts offering graduate and undergraduate programs in more than 70 academic concentrations. U.S. News & World Report ranks Huntington among the best colleges in the Midwest.