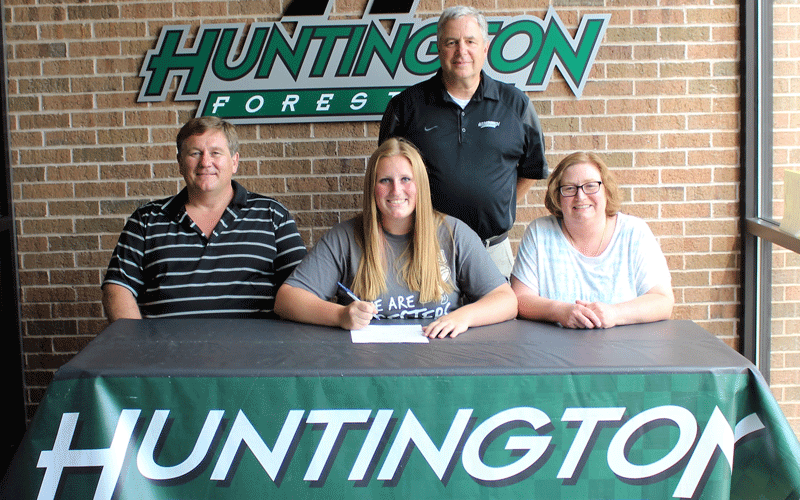 HUNTINGTON, Ind. – DeKalb High School pitching ace Camille Furrow is the latest addition to the 2016-17 Huntington University softball roster as announced by HU head coach Doug Gower.

Furrow wrapped up her four-year varsity career as a Baron with 67 career wins - the most in program history. She also holds the record for most innings pitched (622 2/3) to go along with finishing second in strikeouts (650), homeruns (18) and career RBI (116).

Her success in black and red is well documented. In addition to earning All-Conference accolades each season, she also received KPC All-Area Team honors all four years which included being the Prep of the Year as a junior. The Waterloo native was also a two-time KPC All-Area News Sentinel pick.

Furrow also excelled in the classroom as a two-year member of the National Honor Society. She graduated with academic honors and finished in the top 20 percent of her class. She plans to study elementary education at HU in the fall.

Pictured seated are father Daniel, Camille and mother Barbara. Standing is HU Coach Doug Gower.

The Huntington University Foresters compete in 17 intercollegiate sports for men and women. In the past decade, Huntington has produced 38 NAIA All-America honors and 254 All-America Scholar Athlete honors. Huntington University is a comprehensive Christian college of the liberal arts offering graduate and undergraduate programs in more than 70 academic concentrations. U.S. News & World Report ranks Huntington among the best colleges in the Midwest.