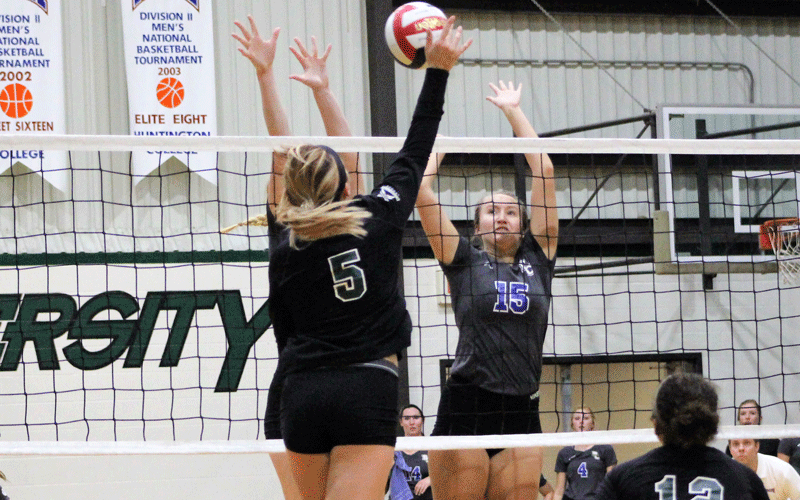 HUNTINGTON, Ind. - The Huntington volleyball team got back on track Wednesday night with a 3-0 win (-20, -10, -14) over the Pilots of Bethel College at Platt Arena.

It was a night where there was plenty to celebrate as all aspects of the Foresters' game was on point. The win is HU's sixth sweep of the year as they improve to 9-8 overall, 4-3 in league play.

"There's so much to be happy about after a match like that," said Coach Shondell.

The skipper was quick to credit his backcourt players. "We've got a core of backcourt players who serve, pass, and defend as well as anyone in our league right now and they were tremendous tonight. On a three-point scale, we passed a 2.7 as a team, that's almost unheard of."

A credit to HU's defense, Bethel managed just 17 kills and finished with a negative hitting percentage. Bolstering the defense was Kate Cobb who finished with 14 digs while Emily Hubby collected ten and Danielle Gurwell added eight.

In addition to her defensive contributions, Gurwell also took charge of the offense by posting a career-tying 14 kills and a .429 hitting percentage. As a team, Huntington finished with 37 kills with Josie Beaver and Lauren Cresse adding six apiece.

"Danielle is always steady and reliable, tonight she was great," said Shondell. "Her transformation as a player and a leader is one of the best stories we've got this season.

"Tonight, she found a lot of different way to score and did so often."

Shondell also had nothing but praise for Hubby who, in addition to registering ten digs also handed out a game-best 16 assists. "Emily was awfully good tonight, recording a double double which means she was focused on both sides of the ball for us tonight and that was terrific."

The Foresters are back at in on Friday with a road trip to Mount Vernon.

The Huntington University Foresters compete in 17 intercollegiate sports for men and women. In the past decade, Huntington has produced 38 NAIA All-America honors and 274 All-America Scholar Athlete honors. Huntington University is a comprehensive Christian college of the liberal arts offering graduate and undergraduate programs in more than 70 academic concentrations. U.S. News & World Report ranks Huntington among the best colleges in the Midwest.