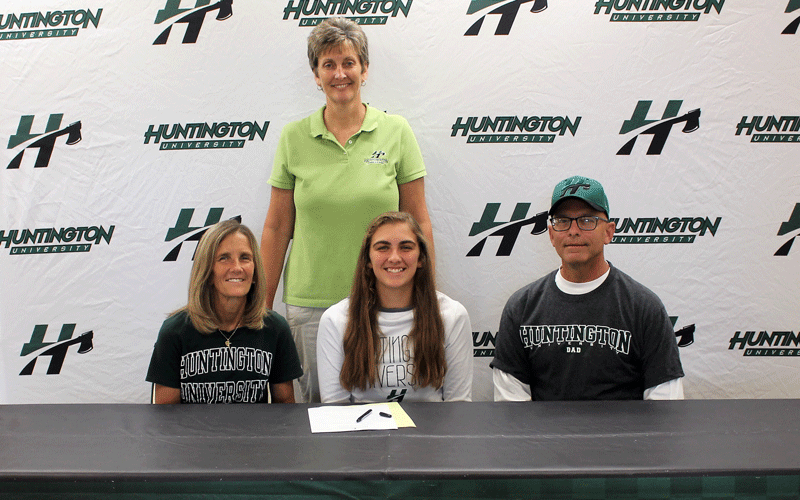 Huntington University women's basketball coach Lori Culler has finalized her 2017-18 roster with the signing of Pendleton Heights standout Sam Hammel.

The 5-7 guard did a little bit of everything for the Arabians throughout her four years as their starting point guard but she certainly saved her best for last. As a senior, in addition to pouring in over 16 points per night, Hammel also averaged 4.8 rebounds, 3.3 asissts and 3.3 steals to guide her team to a 19-5 record and a conference and county championship.

Hammel wrapped up her time in green and white by racking up four All-Madison County honors and three All-Conference badges while being voted her team's MVP three times. As an underclassman, Hammel was named an Elite Sophomore All Star and the following year she was deemed an IBCA Top 100 All Star and an East/West All Star.

As a senior, Hammel earned several notable awards which included earning All-State Honorable Mention and ICGSA Third Team accolades. She was also tabbed the 2017 Madison County Athlete of Character, a Hoosier Basketball Magazine Top 60 Senior and Indiana Class Basketball Senior 4A All Star.

Hammel finished her prep career with 1,142 points, 415 rebounds, 280 steals and just as many assists.

Hammel's success wasn't limited to just basketball as she also spent four years as the Arabians' starting keeper for PHHS soccer where she logged 23 shutouts. She also played tennis throughout her prep career, accumulating 81 wins in singles action against just seven losses and capping off her career with a trip to semi-state this past spring.

"As a multi-sport high school athlete, Sam had tremendous success in all of her athletic endeavors and it's easy to understand why when you witness her work ethic," said Culler. "When you couple her drive and competitiveness with her basketball IQ, you have the makings for early contributions and an outstanding career. We're excited to add Sam to the Forester family!"

Sam is the daughter of Royce and Sue Hammel of Anderson, Ind.

The Huntington University Foresters compete in 17 intercollegiate sports for men and women. In the past decade, Huntington has produced 38 NAIA All-America honors and 274 All-America Scholar Athlete honors. Huntington University is a comprehensive Christian college of the liberal arts offering graduate and undergraduate programs in more than 70 academic concentrations. U.S. News & World Report ranks Huntington among the best colleges in the Midwest. Follow the Foresters online at www.huntington.edu/athletics and via Twitter (HU_Sports) and Facebook (@HUsports).