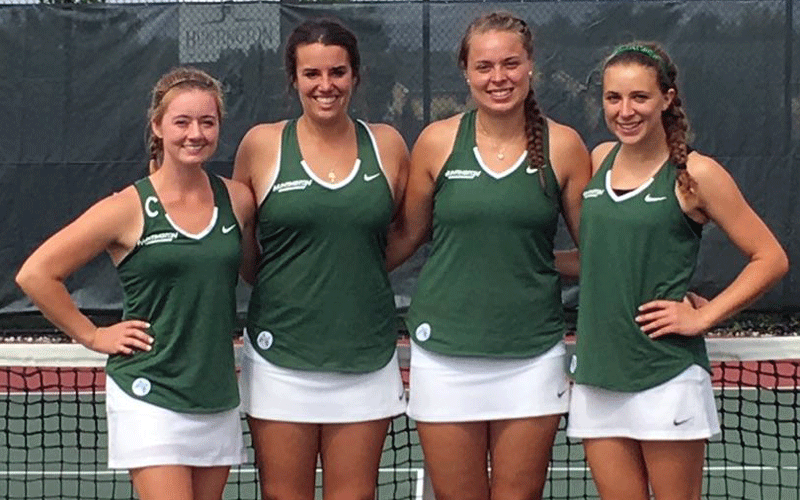 HUNTINGTON, Ind. – The HU women's tennis team celebrated their seniors in impressive fashion Saturday afternoon by posting an 8-1 win over Bethel College on senior day at Klopfenstein Courts.

It was only fitting that HU's four seniors played a part in earning six of their team's eight points. With this win, the Foresters improve to 5-2 in league play to hold at the No. 3 spot in the standings with only one conference match left.

Huntington's seniors include Celine Rongos, Morgan Bemisderfer, Kerrie Ecker and Constanze Golz.

"It was a very emotional day for us as we honored our seniors then had to regain our focus for the match with Bethel," said Coach Roger Ferguson.

HU takes a break from league play by hosting Anderson University on Monday at 4:30 p.m.

SINGLES RECAP
No. 1 – Constanze Golz (HU) def. Taylor Freedline (BC) 6-3, 6-0
No. 2 – Morgan Bemisderfer (HU) def. Caroline Boger (BC) 6-2, 6-2
No. 3 – Celine Rongos (HU) def. Abbey VanDiver (BC) 6-1, 6-0
No. 4 – Meg Dolde (HU) def. Rachel Jennings (BC) 6-0, 6-0
No. 5 – Anastasiia Evstifeeva (HU) def. Chase Keiper (BC) 6-4, 6-1
No. 6 – Adrianna Ward (BC) def. Kathleen Morrical (HU) 6-3, 4-6, 10-4

DOUBLES RECAP
No. 1 – Bemisderfer/Rongos (HU) def. Freedline/Boger (BC) 9-8 (5)
No. 2 – Golz/Dolde (HU) def. VanDiver/Jennings (BC) 8-2
No. 3 – Kerrie Ecker/Morrical (HU) def. Keiper/Stephanie Cressman (BC) 9-8 (5)

The Huntington University Foresters compete in 17 intercollegiate sports for men and women. In the past decade, Huntington has produced 38 NAIA All-America honors and 254 All-America Scholar Athlete honors. Huntington University is a comprehensive Christian college of the liberal arts offering graduate and undergraduate programs in more than 70 academic concentrations. U.S. News & World Report ranks Huntington among the best colleges in the Midwest.