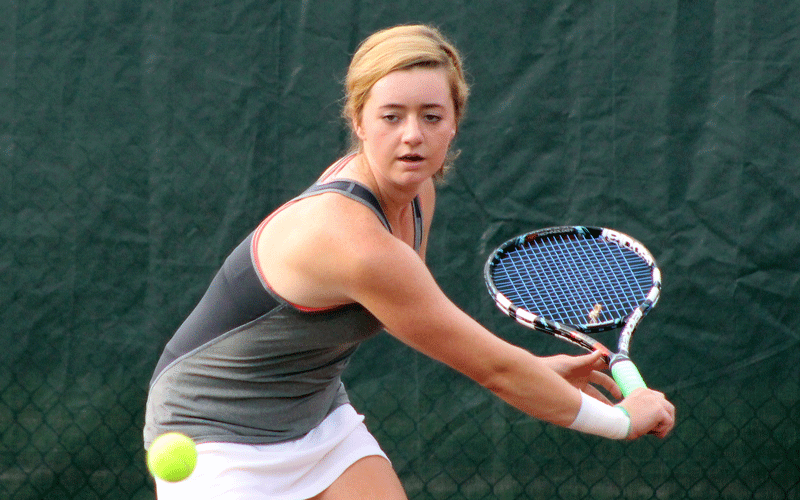 HUNTINGTON, Ind. – The Huntington women's tennis team remains on the prowl for one of the top spots in the conference standings by breezing past Goshen College 9-0 Thursday afternoon at Klopfenstein Courts.

HU gave up just nine games on the day to send GC (0-9, 0-7) home still looking for their first win of the season.

Coach Ferguson's squad is currently sitting in third with a league record of 4-2 behind top-seeded IWU (7-0) and Marian (4-1) with two home conference matches remaining. The Foresters will square off against Bethel on Saturday morning before taking on Spring Arbor Tuesday afternoon.

SINGLES RECAP
No. 1 – Constanze Golz (HU) def. Noemi Salvador (GC) 6-1, 6-0
No. 2 – Morgan Bemisderfer (HU) def. Joelle Friesen (GC) 6-0, 6-0
No. 3 – Celine Rongos (HU) def. Kendra Lozano (GC) 6-0, 6-2
No. 4 – Meg Dolde (HU) def. Chloe Woodward (GC) 6-0, 6-1
No. 5 – Allison Smith (HU) def. Megan Ewing (GC) 6-0, 6-0
No. 6 – Kerrie Ecker (HU) def. Chelsea Katchmazenski (GC) 6-0, 6-0

DOUBLES RECAP
No. 1 – Bemisderfer/Rongos (HU) def. Salvador/Friesen (GC) 8-0
No. 2 – Golz/Dolde (HU) def. Lozano/Woodward (GC) 8-1
No. 3 – Anastasiia Evstifeeva/Kathleen Morrical (HU) def. Ewing/ Katchmazenski (GC) 8-4

The Huntington University Foresters compete in 17 intercollegiate sports for men and women. In the past decade, Huntington has produced 38 NAIA All-America honors and 254 All-America Scholar Athlete honors. Huntington University is a comprehensive Christian college of the liberal arts offering graduate and undergraduate programs in more than 70 academic concentrations. U.S. News & World Report ranks Huntington among the best colleges in the Midwest.