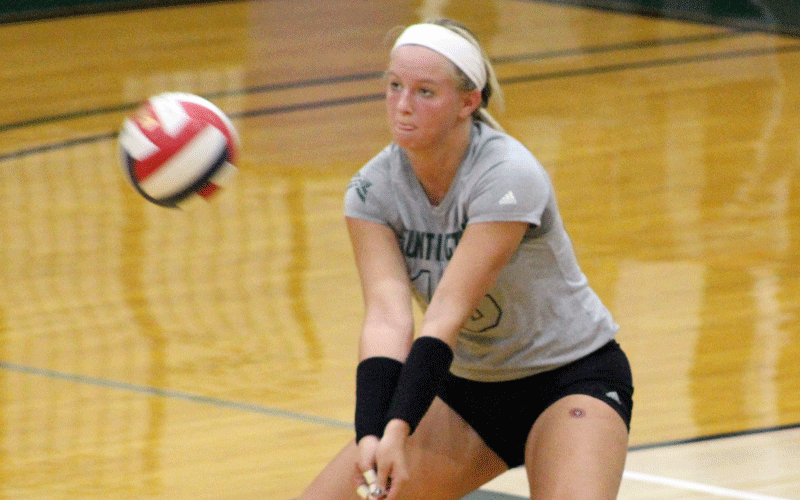 HUNTINGTON, Ind. – Taking a break from league play, the Forester volleyball team tallied two wins at their own tri-match on Saturday at Platt Arena. HU is now 11-9 on the year and has won three of their last four matches.

Against Manchester University to start the day, Huntington came out a bit sluggish to drop their first set 25-17 but quickly righted their wrong by outlasting the Spartans 33-31 in set two. It was just the pick-me-up they needed as they won the next two sets, 25-16, 25-22, to extend their win-streak over MU to two.

Their momentum and confidence carried over to their match with Aquinas College where they slipped past the Saints in a five-set thriller, 25-23, 16-25, 25-18, 20-25, 15-10. The non-conference clash featured 48 ties and ten lead changes. The Foresters are currently 2-2 this season in five-set matches.

Paige Eakright paced a balanced Forester attack with 28 kills on the day which included a career-best 17 kills against Aquinas. The rookie outside hitter also shared team-high honors in blocks (2.5) with Josie Beaver in the day's final match against the Saints.

"Paige was special at times today," said Coach Kyle Shondell. "It was only a matter of time for her to break out and today was that day."

Beaver also proved to be a steady force on both sides of the net, logging another 2.5 blocks against Manchester in addition to collecting 17 kills over the course of the day.

Danielle Gurwell registered 14 kills and led the team in blocks with 5.5 while Ashli Drewes and Audrey Mallers added 16 and 14 kills respectively and combined for six blocks in HU's two contests.

While her teammates got the job done defensively at the net, Kate Cobb got the job done in the backcourt for HU by tracking down 65 digs on the day to enjoy game-high honors in both matches.

"Our defense was on display for extended periods of time today," said Shondell. "Our block was so effective today, whether they were putting balls down or gathering touches, they were a big piece to being as good defensively as we were."

The Foresters travel to Taylor on Wednesday in hopes of completing the regular season sweep over the Trojans. The last time these two teams met back on August 31, HU enjoyed a 3-1 victory.

The Huntington University Foresters compete in 17 intercollegiate sports for men and women. In the past decade, Huntington has produced 38 NAIA All-America honors and 254 All-America Scholar Athlete honors. Huntington University is a comprehensive Christian college of the liberal arts offering graduate and undergraduate programs in more than 70 academic concentrations. U.S. News & World Report ranks Huntington among the best colleges in the Midwest.