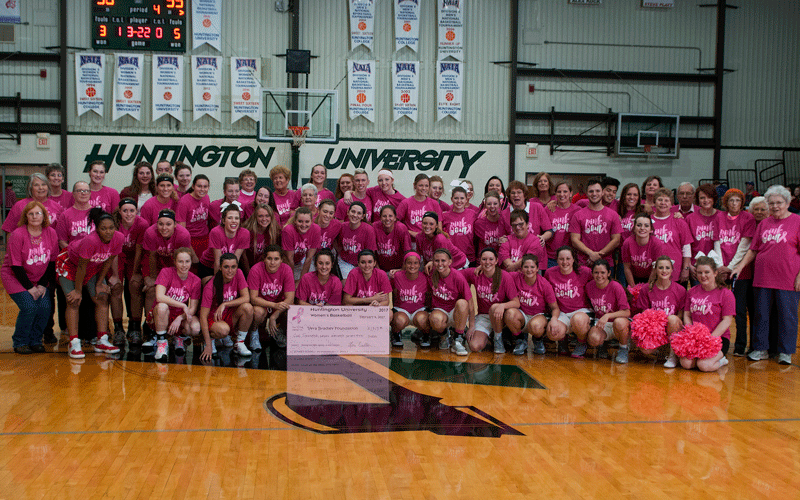 HUNTINGTON, Ind. – Amidst a sea of pink, the HU women's basketball team picked off #17 Indiana Wesleyan University, 56-55, Saturday afternoon at their 9th annual Pink Out at Platt Arena. Coach Culler and crew are a perfect 9-0 when playing in their Pink Out game.

Both programs were on point defensively as evidenced by the low scoring affair and not surprisingly, the game came down to a big defensive stop.

With just under two minutes remaining, senior Miranda Palmer canned a pair of freebies to put her team on top 56-55 but little did anyone suspect her free throws would prove to be the game's final points scored.

After trading empty possessions, HU went back to the free throw line with 42 ticks remaining where they went 0-for-2 but Hailey Krewald came to the rescue to make one of the game's biggest plays on the second missed shot. In a scramble for the rebound, the 5-7 junior dove for the loose ball to tie it up with possession favoring Huntington.

While Huntington's ensuing shot was off the mark, it left the Wildcats with just six seconds to work with. HU's defense didn't disappoint. With fouls to give, the Foresters committed two fouls as IWU was trying to set up their final shot to whittle the time down to 1.7 seconds after which Brooke Saylor came up with a big steal on the inbounds lob to secure the upset.

The final ten minutes had fans of both teams on the edge of their seats. After Anna Imhoff knocked down a long ball to open up a 46-39 IWU lead just 13 seconds into the fourth quarter, the Foresters promptly responded with ten unanswered points to claim their first lead of the second half, 49-46, with just under six minutes remaining. The 10-0 run was highlighted by back-to-back three-pointers by Krewald and Allyson Trout.

Imhoff finally broke Wesleyan's scoring drought by draining her second three of the quarter followed by Brittany Washington's penetrating layup 20 seconds later to give the visitors a slim two-point lead with four minutes to go. It was Krewald to the rescue again, this time by way of a rainbow three from the corner to put HU back on top 52-51.

Palmer handled Huntington's scoring the rest of the way by slithering down the lane for a right handed layup for a three-point spread and then knocking down the game-winning free throws after IWU reclaimed the lead , 55-54, by way of another Washington layup and two Chelsea Winner free throws.

When all the dust had settled, the day featured eight ties, eight lead changes and no more than three possessions ever separating the two teams with the first half favoring the Wildcats 35-30.

IWU found their success in the paint where they scored 32 of their 55 points. The Foresters, on the other hand, relied on their long range ability as 30 of their points came from behind the arc. They also cashed in on 12 offensive boards to the tune of ten points while limiting their visitors to just two second chance points.

Both teams took fairly good care of the ball with HU committing 11 miscues to IWU's 13. Rebounding was also evenly matched with Indiana Wesleyan holding a slight 36-34 advantage.

Palmer had to work hard for her team-leading 12 points. She also dished out a game-best seven assists. Trout finished with 11 points and four assists while Krewald added ten points off the bench to go along with six rebounds and two steals. Saylor corralled a game-best 12 boards which included five offensive and also snagged a pair of steals.

Winner topped all scorers with 17 points while Imhoff tallied 12 for IWU.

With this win, HU (13-12) avenges a 4OT loss to the Wildcats earlier this season as they improve to 7-7 in league play for a share of 4th place in the conference standings while the Wildcats drop to 16-10 overall, 9-5 in Crossroads League action for 2nd place behind Marian. The last time IWU registered ten losses in a season dates back to 2008-09.

The Foresters honored 19 breast cancer survivors at halftime and raised over $1,700 for the Vera Bradley Foundation.

HU is back in action on Wednesday when they travel to Saint Francis for a 7:00 p.m. tip-off with the Cougars.

The Huntington University Foresters compete in 17 intercollegiate sports for men and women. In the past decade, Huntington has produced 38 NAIA All-America honors and 254 All-America Scholar Athlete honors. Huntington University is a comprehensive Christian college of the liberal arts offering graduate and undergraduate programs in more than 70 academic concentrations. U.S. News & World Report ranks Huntington among the best colleges in the Midwest.