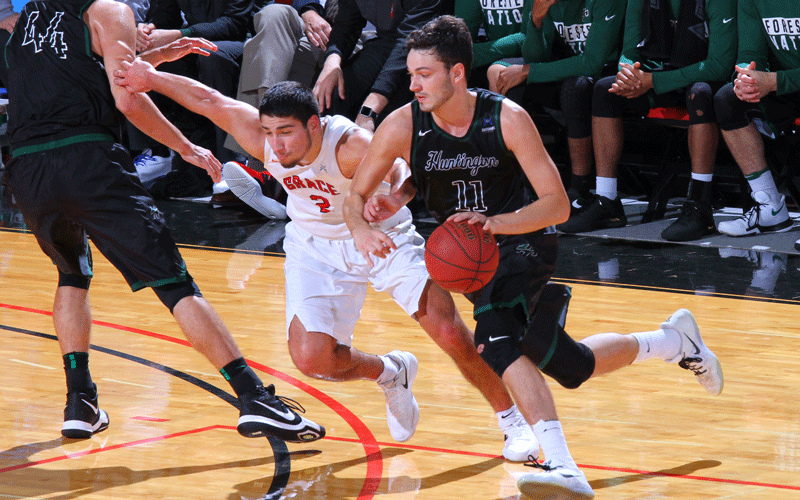 WINONA LAKE, Ind. - The HU men's basketball team (6-6, 2-2) tallied its second straight league win with a 92-83 decision on the road at Grace College (6-7, 0-4) Tuesday night at the Manahan Orthopaedic Capital Center.

The bottom line says it all as the Foresters sizzled the nets by going 35-for-62 for a clip of 56.5 percent from the field, a season-best, while limiting their hosts to 40.3 percent shooting (29-for-72). Despite being out-sized, HU also controlled the boards by corralling 40 to Grace's 32.

Tyler Arens took top honors in both categories by pouring in 32 points and pulling down a career-best 14 rebounds for his sixth double double of the year. The 6-8 forward missed just two shots all night by going 11-for-13 from the floor which included two long balls while knocking down all eight of his freebies.

Mike Bush also collected a double double, his fourth of the season, with 21 points and ten assists. Devon Merder added 14 points and dished out five assists while Trevor Lockwood scored all but two of his 12 points in the first half to round out the visitors' double digit scoring.

The opening six minutes featured three ties and three lead changes but after that Huntington never trailed. While the Lancers never went away, Merder's three at the 13:35 mark gave HU its permanent lead at 11-8.

Over the next four minutes, it was an evenly played contest but all that changed as five different Foresters put points on the board for a 9-0 run that ballooned the advantage to 13, 32-19, with five minutes left in the half.

Arens' triple at the 1:20 mark gave HU its largest lead of the half at 46-29 before his team headed into the locker room in control at 48-34.

Five points by Merder within a 30-second span early in the second period swelled Huntington's lead back to 17, 55-38, by the 17-minute mark. The advantage stayed in double digits except for a handful of possessions over the next seven minutes but the Lancers still had some fight left in them.

An 11-2 Grace run over the next three minutes made for a three-point difference at 72-69 with seven minutes remaining. A quick timeout, several substitutions and two minutes later, the Foresters had built the lead back to ten at 79-69.

However, the Lancers weren't ready to throw in the towel. The hosts slowly chipped away at their deficit and with just over a minute remaining, the lead was back down to three, 86-83. It was a repeat of a few minutes earlier as the Foresters fired right back, this time to secure the win. Mike Bush snuck his way into the lane for a layup with the shot clock winding down after which Arens hit four straight free throws to account off the game's final six points.

Braxton Linville knocked down five triples on his way to tossing in a team-high 23 points for the Lancers. He also handed out seven dimes and ripped down six rebounds. Erik Bowen and Logan Godfrey registered 15 and 12 points respectively in addition to combining for nearly of their team's rebounds with 15.

Since 1994, the Foresters have enjoyed a 14-11 advantage over the Lancers when playing on the road. HU is now 6-6 overall, 2-2 in the Crossroads League. Huntington now takes a break from league play until the new year. Next up for Platt and crew is a home game on Saturday against Aquinas at 3:00 p.m.

The Huntington University Foresters compete in 17 intercollegiate sports for men and women. In the past decade, Huntington has produced 38 NAIA All-America honors and 274 All-America Scholar Athlete honors. Huntington University is a comprehensive Christian college of the liberal arts offering graduate and undergraduate programs in more than 70 academic concentrations. U.S. News & World Report ranks Huntington among the best colleges in the Midwest.