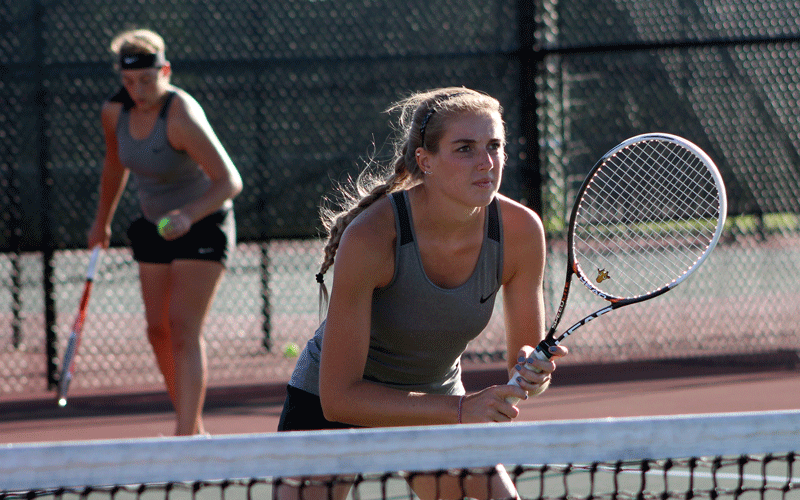 HUNTINGTON, Ind. – The Huntington women's tennis team took a break from league play to tally their second shutout of the season with a 9-0 decision over Anderson University Monday afternoon at Klopfenstein Courts.

With this win, the Foresters extend their win streak to three and improve to six wins against just two losses. It was a quick sweep as HU blanked the Ravens in doubles play and then gave up just five games in singles action for the lopsided win.

Coach Ferguson's crew is back in action tomorrow to host Spring Arbor University at 4:30 p.m.

SINGLES RECAP
No. 1 – Constanze Golz (HU) def. Abby Kirkman (AU) 6-0, 6-1
No. 2 – Morgan Bemisderfer (HU) def. Alison Newman (AU) 6-0, 6-1
No. 3 – Celine Rongos (HU) def. Megan Moriarty (AU) 6-1, 6-0
No. 4 – Meg Dolde (HU) def. Mandy Meserve (AU) 6-0, 6-0
No. 5 – Anastasiia Evstifeeva (HU) def. Katie Kirkman (AU) 6-1, 6-0
No. 6 – Kerrie Ecker (HU) def. Hannah Minor (AU) 6-0, 6-1

DOUBLES RECAP
No. 1 – Bemisderfer/Rongos (HU) def. Meserve/Newman (AU) 8-1
No. 2 – Golz/Dolde (HU) def. A. Kirkman/Hannah Libler (AU) 8-1
No. 3 – Kathleen Morrical/Erin Van Kampen (HU) def. Minor/Moriarty (AU) 8-5

The Huntington University Foresters compete in 17 intercollegiate sports for men and women. In the past decade, Huntington has produced 38 NAIA All-America honors and 254 All-America Scholar Athlete honors. Huntington University is a comprehensive Christian college of the liberal arts offering graduate and undergraduate programs in more than 70 academic concentrations. U.S. News & World Report ranks Huntington among the best colleges in the Midwest.