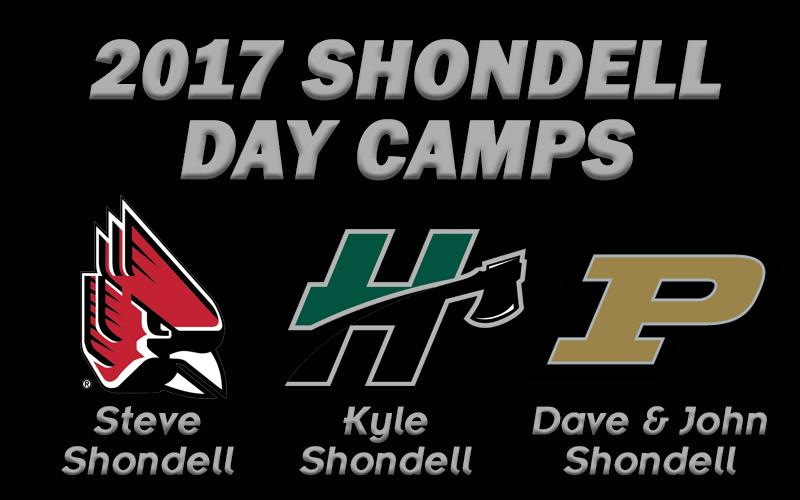 HUNTINGTON, Ind. - Head coach Kyle Shondell has announced that the Huntington University volleyball team will be hosting a series of camps this summer at the Merillat Complex.

The second annual Shondell Day Camps featuring Dave Shondell (Purdue University Head Coach), Steve Shondell (former Ball State University Head Coach), John Shondell (Purdue University Associate Head Coach) and Kyle Shondell (Huntington University Head Coach) is slated for July 18-19 for 6th-12th graders (boys and girls).

Each coach will lead a three-hour session. Cost to attend is $60 per session or $200 to attend all four sessions. The schedules is as follows:

Tuesday, July 18
9:00 a.m. – 12:00 p.m. - Attacking Camp with Coach Kyle Shondell
1:00 p.m. – 4:00 p.m. – Passing Camp with Coach Steve Shondell

Wednesday, July 19
9:00 a.m. – 12:00 p.m. – Setting Camp with Coach John Shondell
1:00 p.m. – 4:00 p.m. – Defense Camp with Dave Shondell

Registration forms are available at the Huntington University Athletic Office or campers can register online at www.huntington.edu/athletics/volleyballl. For questions, contact Coach Shondell at 260-359-4310 or kshondell@huntington.edu.

The Huntington University Foresters compete in 17 intercollegiate sports for men and women. In the past decade, Huntington has produced 38 NAIA All-America honors and 254 All-America Scholar Athlete honors. Huntington University is a comprehensive Christian college of the liberal arts offering graduate and undergraduate programs in more than 70 academic concentrations. U.S. News & World Report ranks Huntington among the best colleges in the Midwest.