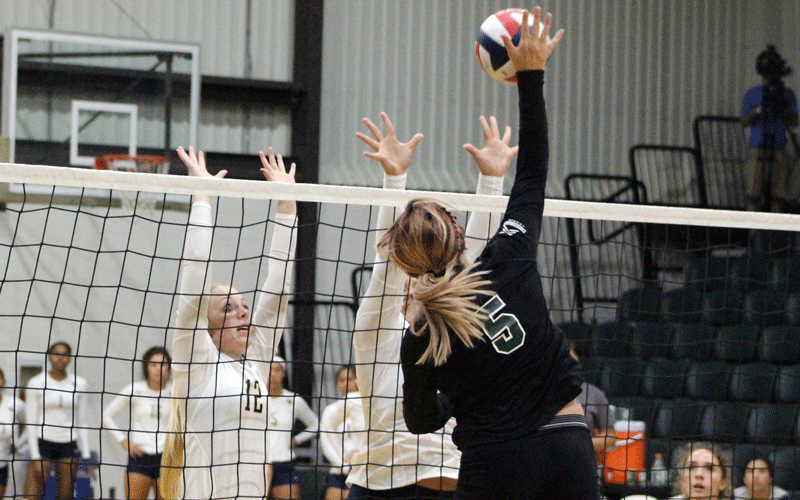 Huntington, Ind. - The Forester volleyball team opened up its season on Friday in convincing fashion at their own Forester Invitational. After sweeping IU East, 25-11, 25-19, 26-24, in the morning, HU also disposed of William Penn University with a four-set W, 25-18, 25-23, 17-25, 25-22, in the last match of the day at Platt Arena.

Coach Shondell's crew came out guns a blazing in the first two sets by trailing just twice to IU East (0-1), each time a one-point difference, for a pair of dominant wins. But more impressive than their quick work of the Wolves early on, was their grit in the third set.

Huntington found themselves in an early 10-3 hole but didn't settle for the letdown. Instead, they rallied behind Danielle Gurwell's three kills in their comeback to knot things up at 16-16 after which they never trailed on the way to a 26-24 third set victory.

"I was really impressed with out mentality and intensity in the morning," said Shondell. "We were able to take control early and not let go."

Gurwell finished with a game-high nine kills. Brandy Michie added eight while Josie Beaver posted seven and a .545 hitting percentage. Beaver also made her presence known at the net defensively by logging 2.5 of her team's six blocks.

Emily Hubby and Breanna Levings split setting duties to register 14 and 13 assists respectively while Mikayla Carpenter and Kate Cobb anchored HU's backline by combining for 25 digs.

The evening contest pitted two scrappy teams battling to the bitter end of each set with the Foresters finally outlasting WPU (0-2) for a 2-0 start to the season. When all was said and done, the match featured 37 ties and eight lead changes.

HU outhit their visitors 50-42 and were nearly twice as efficient offensively, finishing with a team hitting percentage of .151 to the Statesmen's .088.

Tailor Schultheis and Beaver each recorded double-digit kills with 12 and ten respectively to pace the Shondell's squad. Gurwell tallied nine kills while Haley Longley added seven in addition to finishing with two solo blocks.

Hubby handled the bulk of the setting responsibilities with 24 assists. Cobb took top honors in digs with a game-high 25 while three of her teammates in Carpenter (13), Levings (11) and Ariene Butler (10) also posted at least ten digs. Defensively, Huntington also outblocked William Penn 5-3.

"I was really pleased with the team effort defensively," Shondell said. "We were able to take away just about everything they wanted to do.

"It was a really great way to start our season; we need to keep pushing our level and get better tomorrow."

Huntington is back in action in the morning to host #RV Missouri Valley College at 9:00 a.m. before taking on Brescia University at 1:00 p.m.

The Huntington University Foresters compete in 17 intercollegiate sports for men and women. In the past decade, Huntington has produced 38 NAIA All-America honors and 274 All-America Scholar Athlete honors. Huntington University is a comprehensive Christian college of the liberal arts offering graduate and undergraduate programs in more than 70 academic concentrations. U.S. News & World Report ranks Huntington among the best colleges in the Midwest.